In London, you can find food from all over the world and for every kind of budget. When you first arrive in the city, the variety can be overwhelming and if you are visiting on a shoestring, you'll need to know where to find the best bargains. Luckily, there are many great affordable places to eat, if you know where they are. Thank you to the Intermediate students from Stafford House London who created this list for our blog.
1. Wetherspoons - Written by Thallyta and Bengi
Wetherspoons outlets are good for students because the food and drink is so cheap and delicious. You can eat three things (for example: chicken, fries and nachos) for £10 to £12, and a hamburger is only £5. Plus, if you pay £1 extra you can add a beer! The menu has a wide selection of choices. You can get starters, salads, pastas, food fresh from the grill, gourmet burgers, desserts and loads more! It's so good there because it's a kind of pub where you can drink, eat and have fun.
2. EAT - Written by Thallyta and Augusto
EAT is good for students for three reasons. Firstly, there's a branch near almost all underground stations. Secondly, you can find one on almost every corner, and finally, there's one near Stafford House.
The menu changes every season, but the fresh food continues throughout the year. At Christmas they have cranberries, in the summer they have strawberries. You can drink a hot coffee and sit down or take your food away. You can get different types of sandwiches, drinks, salads and meals. Most importantly, all food at EAT restaurants is healthy and fresh, ideal for those who want to eat well without breaking their diet.
3, Supermarket Meal Deals - by Shin and Vania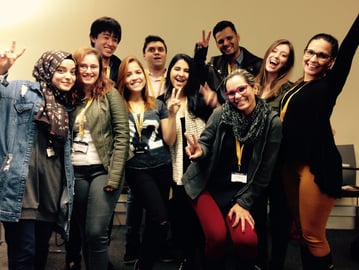 Sally's Intermediate Flex Class


If you're looking for something cheap and quick to eat, you should try the `meal deal` in supermarkets like Tesco and Sainsbury's. There you can buy a sandwich, a drink and a snack for only £3. You can choose from several types of sandwiches, soft drinks, juices and snacks. Unfortunately, the supermarket doesn't have places to sit and enjoy your food. However, London has many parks, so you can go to one of them and eat while enjoying the beautiful views. You don't have to look up the location of the supermarkets, because they are all over London!
4. Montagu Pyke - by Thais, Darline and Lara
The Montagu Pyke is a nice place for students because there are lots of food promotions and low priced drinks with a low price each day of the week. In this place, you can meet your friends to have fun and make new friends too. It's possible to buy a delicious hamburger with chips and a pint for around £7. On the menu you'll find other choices such as chicken, baked potatoes, grilled meat and desserts. Many people go to this place every day, so you must arrive early if you want get a table. Inside the Pub you'll see a large hall with two floors and beautiful decor. Enjoy this experience and save money!
5. Kennedy's Fish and Chips - Seyma and Rafael
Last but not least Kennedy`s Fish and Chips is the best option for you to try the most famous British food. In London you`ll find a lot of places that sell fish & chips, but Kennedy's is the best because your fish and chips won't be fried in a lot of oil and you'll get the best price. You can find two Kennedy's Fish shops in London: the first is on Whitecross Street and the other is on Goswell Road. Here they offer a full range of traditional English pies as well as fresh fish caught off the British coast with a budget price. If you want to eat British cuisine it's the best place for you to visit.
Thank you students for sharing your London tips! Do you have a favorite cheap eatery in London? Leave it in the comments!