Lorna's Pre-Intermediate Class: Tips for Travelling Abroad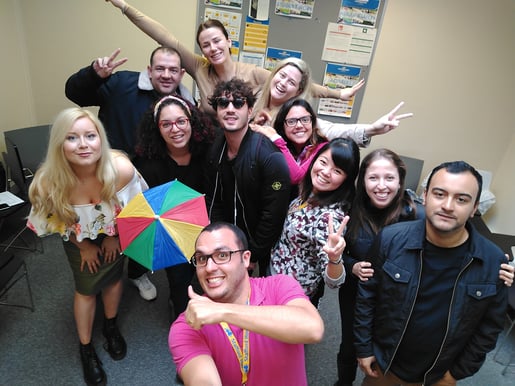 #1. Food – Marcela and Vannessa
When you go to another country, you need to know some things: always bring a bottle of water everywhere, because you never know where you will find it easily. Please, don't go to the fast food places, there are a lot of varieties of foods and this is a good opportunity to taste typical foods and spices in a street market.
Ask local people about what they recommend to eat, search for the best restaurants and if you have any allergies check the ingredients before.
Enjoy the sunny days, have a picnic in the park and taste new flavours of drinks!
#2. Accommodation - Malvina & Francielli
If you travel for study or work, find your accommodation near your job or school, because it's easier for you. Then find your accommodation in a safe place and near a station because it's more secure. If you find accommodation from the internet, we suggest you don't pay online first - you need to see the place. If you save your money, you can search for accommodation in a family home, Airbnb or school residence - in the centre it's very expensive!
#3. Money – Luca & Vanessa
Open an account in a bank – this can be a good option if you stay abroad for a long time.
You should search very well for the best prices. Touristy places are more expensive than others.
You should exchange the money in advance before you travel. Exchanging in the airport is expensive.
Search for information about each attraction on your trip, sometimes you find some offers!
#4. Weather – Rafael and Elainne
First you should find out about the season that you will be in this country. With this you can think about the right clothes, if you need to take thermal clothes or simple light clothes.
Raincoats and comfortable shoes are necessary if you want to walk a lot. On rainy days you should go to a museum to learn about local history. You should go to theatre and concerts. Enjoy!
On sunny days you should go to the parks and do some sports.
#5. Transport - Antônio and Guilherme
1- Download some apps for travelling in the city, like City Mapper or Google maps.

2- Buy a transport card as soon as possible. You can choose to buy a day, week, month or even a year pass.

3- If you need a different transport, use an Uber, never use a taxi because it's very expensive.

4- you can rent a bike, if you like to do exercise.

5- Bring good shoes if you will walk a lot.

6- If you will live in another country for some time, think about buying an electric scooter - it will help you a lot!