Dear London,
I met you three months ago after I heard so much about you. Finally I had the great honour and pleasure to meet you.
I was so excited after all these months I've spent waiting an imagining how it would be with you, nervous because of all these new things that were about to happen and the big change I was about to face, but mostly I was anxious, not sure if I am good enough, if I will make it.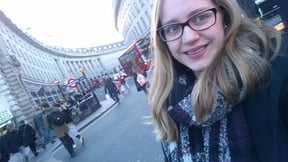 I didn't expect that it would turn out like this…
Now I am sitting in a café in Oxford Street, drinking English Breakfast tea, eating scones with clotted cream and strawberry jam, and writing you a love letter in English (!) without any problems :)
I wouldn't be able to do this without you, so a big THANK YOU!
But let's start at the beginning…
On my first days with you my family was with me and we spent plenty of time starting to know you. So it wasn't that hard anymore and I was less anxious. I was afraid that my speaking wasn't up to scratch but the test on my first school day (I was so nervous) showed me that I was better than expected. I started in Upper Intermediate and was moved after one month to Advanced.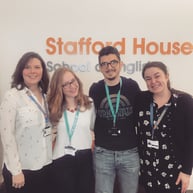 But I couldn't have managed this without you. All of your (native) English speakers, your wonderful books, the activities, hot spots and attractions you have, the films, musicals, your life… This all helps me a lot to improve.
Also all the people I met through you who wanted to know you just like me. I always talk to them, learn a lot about their country and culture, but also new words. All the teachers I met and who told me so much about you, taught me your words – taught me so much, and still do!
I love wandering around in your streets, getting to know you better, learning a lot of new things about you. My favourite spots are Piccadilly Circus and Leicester Square because it's always full of life and people, there are good shops, restaurants, pubs and theatres nearby. I like to be in Waterstones, browsing new books, reading and buying some. Also walking from St Paul's over the Millennium Bridge and enjoying the beautiful view over London's skyline, shining in the golden light of the sun.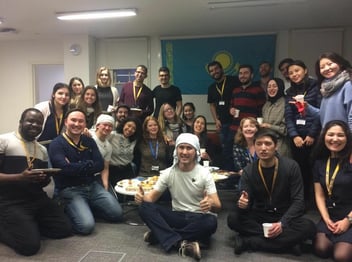 But when I really and truly fell in love with you was when I walked along the Thames riverbank in the night with new friends, having good conversations in English, smelling the mouth watering odour of a pizzeria and seeing your beautiful shining nightlights. For me, this was the moment when you really had me. You are so beautiful, full of life, history and present mixed together, good food, happiness… I never thought I would be that used to you but I feel at home – I go to the Underground every day like a Londoner, have a super job, found a lot of friends, a very nice host family and I am just happy and grateful to be here. Thanks for giving me the opportunity to live with you, learn so much, just everything!
I'm totally and madly in love with you, I can't help it and I think I always will be!
With love,
Your Tiffany xoxo