Last weekend a group of intrepid adventure seekers took to the streets of London to take part in a a Run Through 5k. The teachers and staff raised money for a charity supported by Stafford House, United World Schools. Seven determined staff members from the London school sprinted round the beautiful Battersea Park in the south of the city to complete a 5K road running race (Susi, Matthew and Noelia) and 10K race (Danny, Carl, Julian and Marc).
The runners raised a fantastic £1,100 for the charity, who provide education for children living in remote communities. How did they raise all that money? Director of Studies Julian said "It was quite easy actually, we asked our friends and colleagues at work and on social media to sponsor us, and everyone was so generous that we met our target really quickly – huge thanks to everyone for their donations!"
Everyone finished the race in super quick times, and they were all really pleased with their performances. Stafford House London Accommodation Manager Danny told us he was "most pleased that I managed to beat Julian (our Director of Studies) and Carl (the Principal!)"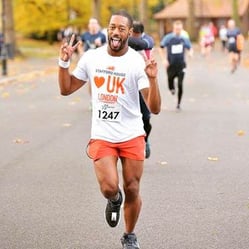 The Director of Studies for Stafford House London Julian running in Battersea Park
Teacher Marc is a very seasoned runner, so the fact that he was the fastest of the
group came as no surprise to anyone – 36:25 – wow! Marc actually came 4th overall (of 500 runners) and achieved a personal best 10K time!
Susi had never participated in a race before, and only took up running a few months ago, so to finish her 5K race in under half an hour was a huge achievement for her! She says: "It was such a fun day, I'm already looking for the next race! I was proud of receiving my medal, and I loved all the cheering!"
The cheering she's talking about was provided by a lively group of other staff members and some students from the school who gathered on the sidelines waving their banners and Stafford House flags while whooping and shouting for the runners as they whizzed by. They even had lion masks to wear! The students were invited to come along as a social programme activity: a way to practice their English, make new friends and show their support to the school – they did a great job!
Well done and thanks to all the runners and supporters – we'll see you all at the next race!