Visiting Canterbury for the first time? Here are some suggestions of places to go when you arrive.
What do you think of when somebody asks you about Canterbury? An ancient city? A beautiful Cathedral? Home to the oldest school in the world perhaps? In truth it is all of these things and much, much more. To look at Canterbury from a historical point of view is to just scratch the surface of what this fantastic city has to offer. If you're thinking of coming to Canterbury to study or maybe you've already decided, here are our suggestions of places you must go and things you must do when you first arrive!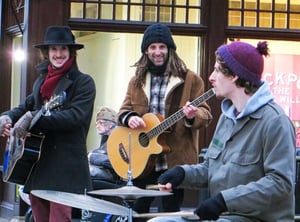 First and foremost you should head to the high-street which runs straight through the centre of town and is the main thoroughfare in Canterbury. It is lined with shops, cafes, restaurants and pubs and features a myriad variety of buildings dating back more than a thousand years and taking in the breadth of famous architectural styles England is known for. As you explore the cobbled streets absorbing the unique atmosphere be sure to look out for some of the fantastic buskers that ply their trade in the centre of town. Keep an eye out for Coco and the Butterfields or Rudy Warman and the Heavy Weather, two great bands that still like to play to crowds on the streets of Canterbury.
If you're a coffee drinker (or any other hot drink for that matter) Canterbury has you well served with innumerable shops to pick from, though if we were to recommend one go for the Chocolate Café. It's located very close to the Cathedral, has great drinks (try the hot chocolate), friendly staff, a cosy atmosphere and the kind of floor to ceiling windows that beg you to sit for a while and just watch the world go by.
If you start to feel a little peckish a great spot to check out is Pork & Co. Bar and Kitchen (which is something of a misnomer as it sells plenty beside pork!) a lovely locally owned eatery that suits both those who want a quick bite and those who'd rather sit and enjoy their meal. If this doesn't pique your interest than head in any direction for 10 metres and you'll come across another original, independent place to eat, Canterbury is chock full of them.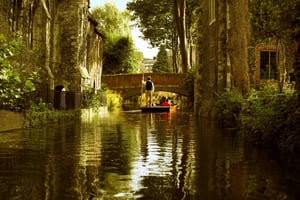 If you find yourself wandering the streets in the evening and would like to check out some of the nightlife in town then head to a great bar called The Pound. Although it's not a traditional English pub it does have some very unique qualities that set it apart from many other nightspots. Foremost is its location, adjoining the Westgate Towers the bar is inside the old Canterbury police station and prison ('Pound' being English slang for prison) and so you can enjoy a drink while sitting inside one of the old prisoner cell rooms. If you step outside on the terrace you'll find yourself beside the River Stour that runs through Canterbury and is the reason for the city's existence! If you're visiting Canterbury when the weather is nice you can take a tour of the city from the river in a punt (an English version of a gondola) or a rowboat and it is a truly beautiful way to take in the charms of our little city.
These are only a few of the great places that make our city a truly unique and exciting destination to visit and study in and I guarantee that you'll find your own favourite spot that will make Canterbury your home away from home!