One of our newest students, Iris from Switzerland, wanted to share her initial impressions and experiences of her first week studying at our Canterbury school.
Before you book your stay, you can decide whether you want to stay in a host family or in a student house. Since I am almost 25 years old and accustomed to living alone, I have chosen a room in a student house.
The house has several rooms, at the moment I share the house with three female students. My room is on the first floor. What I really appreciate is the big bed, so you can sleep comfortably. What's more, you have your own bathroom, which is quite big. The room is fully furnished. Therefore, you got plenty of space to store your belongings.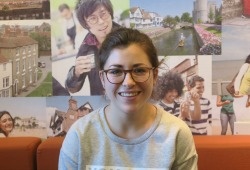 You reach the school on foot in about twenty minutes. However, I managed to buy a cheap bike, with which gets me to the school within five minutes. The school is in a lovely, traditional English house and is fully equipped. On your first day, you have to take an exam so that the staff can place you in the appropriate class. Due to my test, they placed me in the advanced class.
I attend the class in the mornings from 09:00 a.m. until 12:20 p.m. and in the afternoon from 13:20 p.m. until 14:20 p.m.; if you booked an extended course, you are going to attend another hour in the afternoon. My core class teacher is absolutely wonderful. What I mean by that is that she is able to transfer the joy about the English language. Always, the lessons are well-planned, entertaining and challenging.
Almost every day the there is some activity like a pub tour or sports. You are free to join if you like. Anyway, it is a great possibility to make friends, so I would recommend you to take part in some kind of activity. Around Canterbury, there is a lot to discover. The landscape is picturesque, so if you like being in the nature, this is your place. Additionally, there are many beautiful villages along the coastline. You can visit the nearby cities as London or Cambridge as well.
The staff at Stafford House is really friendly. Form the first day on, I felt very welcome. What I think is a great plus is the cafeteria, where you can buy drinks and food at a low price. To some extent, the cafeteria is the social hotspot of the school. At any time of the day you will meet your friends there and you can have a chat or plan further activities.
To sum up, my second week at Stafford House is coming to an end and what I can say is that I thoroughly enjoy my stay. My English has already improved and it feels very natural to speak in English.
Thank you for joining us Iris! We look forward to hearing more about your studies soon.