Travelling to London for the first time alone can be daunting. Our students always fall in love with London after they are here, but it can be a big adjustment for some. We have created five simple steps to follow before and after you begin your studies in London. Our staff and teachers really hope this will improve the quality of your time in our amazing city. Any questions or additional ideas? Please leave them in the comments!
Step 1: Pre-plan your trip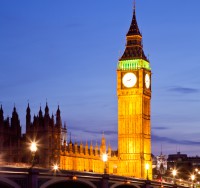 Once you have your dates booked for your courses, start planning all the places you want to see during your time here. London has plenty of helpful resources for tourists, like www.visitlondon.com, that make it easy for international students to plan their visit. Make sure you look online at ticket availability and prices. As a student with limited time, the last thing you want when you arrive is to find out that your dream trip to Harry Potter World is sold out! You can also make a list of all the places you want to go and mark them on a map. A printed paper map or a custom google map will make saving your ideal locations easier. Using a map will make it easier for you to tackle each part of the city without missing anything that you really want to see.
Step 2: Pack for all weathers
Yes the rumours are true; London weather can be just as bad as people say, but it also can also be incredibly surprising in the summer months. When packing for your trip make sure you pack for all types of weather i.e. rain, sun and maybe even a bit of snow! This way you won't be caught out by the changing weather and will be able to make the most of your trip. Also, make sure you bring your most comfortable pair of shoes - there's nothing worse than exploring London with sore feet!
Step 3: Make friends pronto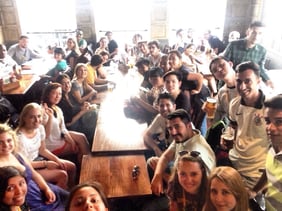 Making friends in a city that you've never been to before is hard, but there are a number of suggestions that we make at Stafford House in order to help you along your way. Firstly, don't be shy; everyone is just as nervous as you are. Secondly, attend as many activities on the social programme as possible; this is a perfect way to meet others and learn about new countries and cultures. And lastly, GO TO PUB NIGHT; everyone meets new people in a traditional English pub, locals are friendly and want to chat and students are keen to make new and interesting friends just like you.
Step 4: Get an oyster card
Travelling around London can be a bit confusing at first, especially if you come from a small town back home. The best and cheapest way for you to travel is with an Oyster card. This allows you to travel on all local buses, trains and tubes. Oyster cards can be topped up with a weekly, monthly or daily travel card which gives you unlimited travel for that time.
Step 5: Escalators
How do you even get down to the underground? Well of course you have to take the escalators, but it's not that simple - London has a few unwritten rules when it comes to the life of a commuter. The first rule for any Londoner is this: never, and I mean NEVER, stand on the left of an escalator. Londoners travelling to and from work every day get incredibly frustrated by people standing on this side, as according to the British way of life this side is solely reserved for the crazy people who like to run up and down them trying to get ahead of the queues. In reality this gets you nowhere faster, so you're better off standing on the right and holding on safely until you reach the bottom. If you do find yourself confused and are standing on the left with a man in a suit muttering under his breath behind you, please just apologise, move back to the right and forget it ever happened. We Brits are a bit strange like that.
Do you have any other suggestions or questions? Please leave them in the comments! Cheers to a fun and educational trip to London!