Stafford House Cambridge is back for face-to-face English classes from Monday 7th September 2020! We spoke to our director of studies, Laureline, to find out about the reopening and to discover why Cambridge is an amazing destination for English students!
Read time = 5 minutes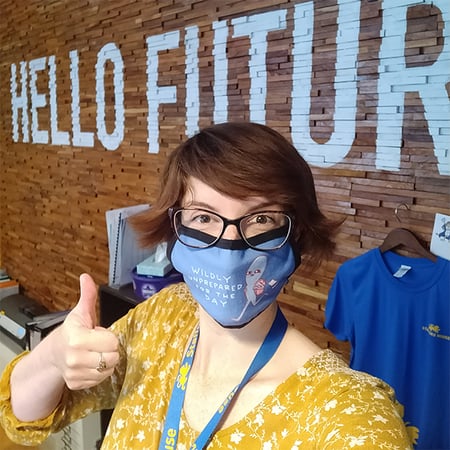 A big welcome back
Laureline- We can't wait to return to teaching face-to-face English classes in Cambridge! These last few months have seen so much happen in the world and we are excited to get back to doing what we love – helping international students from around the world learn English and reach their education dreams!
So we can reopen and help everyone be as safe as possible, we have implemented the WeCare Pledge which details 14 measures we're taking to ensure student safety and well-being in our school. This commitment to safety begins as soon as you arrive, with the team ready to greet you and explain the new safety policies, help you fill in a health questionnaire and take your temperature.
In class and around the school things are a bit different too; everyone will wear a mask and teachers will be wearing transparent visors – so you can still see what they are saying! To ensure you have your own space, you will be given a reserved seat for the entire school day – it's like having a first-class flight ticket for your English class!
Laureline tells us all about the plan for reopening Stafford House Cambridge
We've missed our students leaving!
Yes, you read that correctly! One of the things we have missed most is saying goodbye and good luck to our students at graduation! This is not because we like to see our students leave the school, but because everyone can celebrate how far they have progressed with their English language studies.
A graduation is like a beginning, it means a student can use their new English skills to take the next steps on their education or career journey. It also means we can celebrate all the lifelong friendships that Stafford House students make during their stay!
A true international city
Cambridge is a very special place. It's an amazing centre for education and research as well as being a true international city, with a long history of welcoming international students.
Even though Cambridge is quite small, you always feel like you are in the centre of the action. When you pass the beautiful university architecture on the way to class you can't fail to be inspired by the history and knowledge that fills the city. Cambridge is a really hopeful and optimistic place. Even when things seem bleak, Cambridge has an amazing "can do" attitude.

What you can do in Cambridge right now!
As the lockdown conditions ease, more and more famous landmarks and attractions are opening for students to visit. We have collected together 5 of our favourite things to do in Cambridge that are all within a 10-minute walk of our English school. All of these are now open and will require booking in advance.
So, if you have ever wanted to try punting on the river Cam, see the amazing collection of art and artefacts at the Fitzwilliam Museum, or see the world famous King's College Chapel, a visit to Cambridge this autumn or winter is perfect for you!
Stafford House Cambridge is ready to welcome English students to our beautiful city centre school. If you would like to learn English in Cambridge, contact us now to plan your English course!