Today we hear from Connor and the team about the reopening of English Classes at the beautiful Stafford House London English School!
The Stafford House London English School is located on the leafy Bloomsbury square, 2 minutes' walk from Holborn Underground Station on the Piccadilly Line and 15 minutes' walk from Oxford Street. The school is on the corner of Southampton Place, a street that is at the heart of the international student community in London. When we spoke to our school principal, Connor, the area is still much quieter than usual, but look closely and you can see Stafford House London opening again for English classes!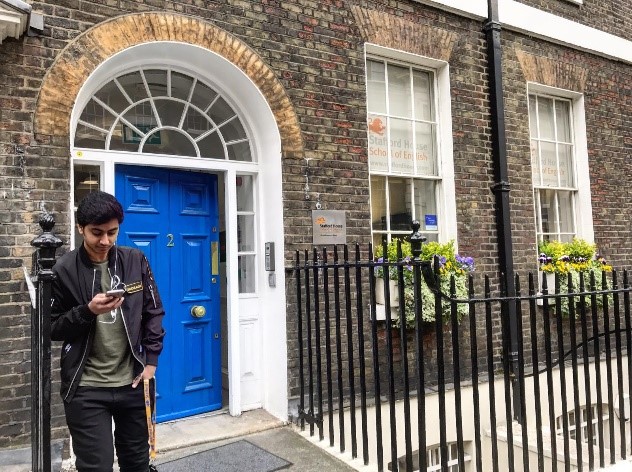 Getting back to English class
Connor – We started getting the school ready for face-to-face English classes several weeks before we had any students back in the school and our students were still doing English classes online. It seems crazy to be working in a school when there are no students – but it was important we spent lots of time preparing the facilities and the staff to reopen in a safe way for our students. On our first Monday back we were in super early - sterilising everything and running through all our preparation one more time!
One huge reunion
We knew all our students would be excited to be back, but nothing could have prepared us for the joy that all our staff and students shared when we opened the doors. Every class was like a reunion! The first class of the day, Sam's pre-intermediate English class, all screamed when they saw each other! No one could hug as we are all socially distancing in the school, so everyone jumped up and down! All the students knew each other from their online classes we held throughout the lockdown, but this was the first time they had seen each other in person. It was a really special thing to see, lots of students from around the world who had built friendships online finally meeting!
Learning English in the "new normal"
So we can ensure we have the healthiest environment possible in our English school, we are following the UK government advice very closely and have implemented our WeCare pledge of 14 measures to ensure student well-being. We have 1-metre social distancing in the UK which we are carefully observing and have made lots of changes to our classrooms. What is important is we ensure we still teach English as best as we can, for example, all our teachers wear full visors so that students can see how they pronounce words in English. It's really important to see someone speaking when learning a language, it's why immersive English is such a great way to learn the English language and we're happy we have found a way to continue to teach in this way. We've also banned photocopying and all books and materials are on students' devices so we limit contact as much as possible.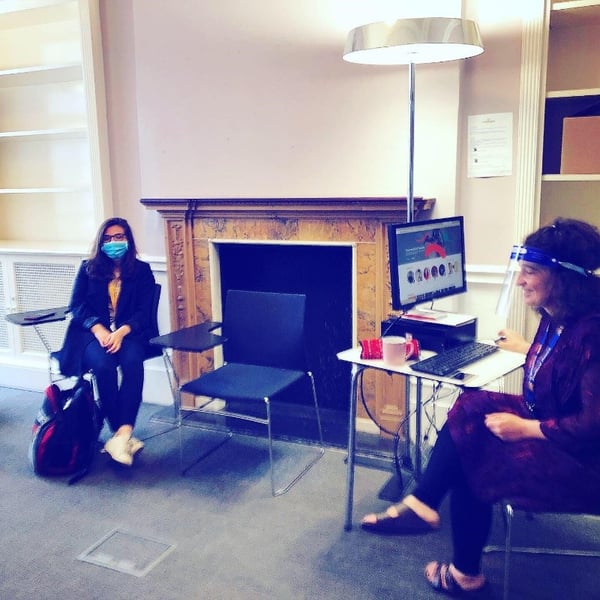 It's great to be back
Right now we are excited to have English classes for all levels running, general English, IELTS exam preparation and Cambridge C1 Advanced exam preparation (Cambridge English: Advanced CAE) are all available. We can't wait to help get everyone the English levels they need and help them on their learning adventure!
We have had a busy summer even though we have not had students in the school, we've taught lots of online English course and been preparing the school. But there is nothing like being able to walk around the school and hear laughter and chatting students again!
Thanks Connor, it's great to see the London English school open and to have students in class! If you would like to learn English in London at our beautiful school contact us to find out how!