In these times of spending more time at home, Netflix is an excellent way to pass the time and still keep on improving your English. There are many ways to watch and you need to think about why you're watching before pressing play.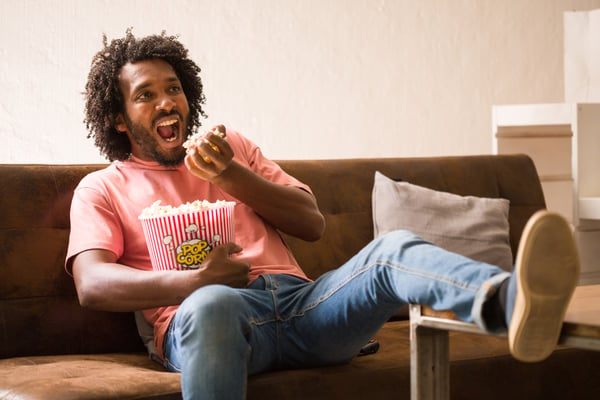 If you want to work on your overall listening comprehension, sit back and relax, watch an episode and at the end of each one (or the end of your binging session), stop and think about what you've seen. You can write down a brief summary, send a voice message to a classmate or even set up a video call to discuss the show!
If you're hoping to use a TV series to improve your vocabulary, this will take a little more focus when watching. Take note of the words and phrases that are new to you, and once the episode has finished, review their meaning and function. Write some examples of how to use it and then it's time for the next episode!
Where should you start? Well, you need to find a great series to get started, so here are my top ten shows to help get you through these times of social distancing without sacrificing a second of your English learning journey.
The Good Place
Ever wondered about heaven and hell? The show follows Eleanor Shellstrop as she finds out exactly what awaits us after we die, in a light-hearted comedy about how our life on Earth affects what happens to us next. You'll hear a range of US and British accents in the show, meaning you'll be able to work on understanding the differences between the two. It's a firm favourite with all the staff in Cambridge!
The IT Crowd
A quirky UK comedy from the mid 2000s, this programme documents the life of an under-valued and socially challenged IT department. The show has a star-studded cast of actors, and features lots of comedians from the British Isles. "Have you tried turning it off and on again?" is the IT guys' catchphrase and the show follows Roy, Maurice and Jen as they work together to help build relations between the IT department and their wider company.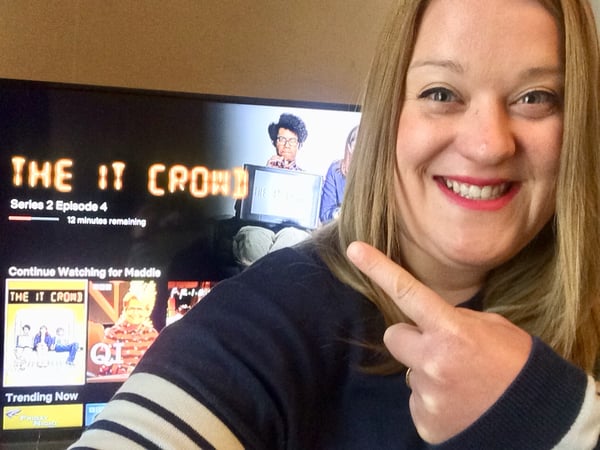 The Crown
A Netflix classic, this biopic shows exactly what happens behind the closed doors of the British Royal family. Following the life of Queen Elizabeth II from the early days up until the turn of the century, you'll learn much more than just English language by watching. Their posh accents and traditional ways show you just what the British monarchy has hidden behind their silent waves and sparkling tiaras. Why not see if you can imitate the Queen's accent to really show off to your friends?
The Politician
This show explores the life of Payton Hobart, an American teenager, whose one goal in life is to be the American president. Gwyneth Paltrow, Ben Platt and tennis great Martina Navratilova star in this glossy show, which will help you out with language related to politics and all things statistics. Great for any aspiring lawyers out there!
After Life
Ricky Gervais is world-famous for being a funny man, but this show proves that he's also a pretty good actor. The cast features loads of British comedians, all of whose accents may put your listening to the test. The story itself is a tragic comedy, centring on a man who loses his wife and is trying to put his life back together. He hits a few bumps along the way, but in doing so creates this funny, and at times quite sad, British show.
Derry Girls
If you think an accent from England is hard to understand, I dare you to watch Derry Girls! Set in Derry, Northern Ireland, it shows us the trials and tribulations of a group of girls growing up in the 90s in the middle of the Irish conflict. Despite its potentially tough setting, the girls (and English boy James) manage to show us the value of good friends, and how hard it can be growing up in a country which is quite divided. Don't forget the English language subtitles! You'll definitely need them!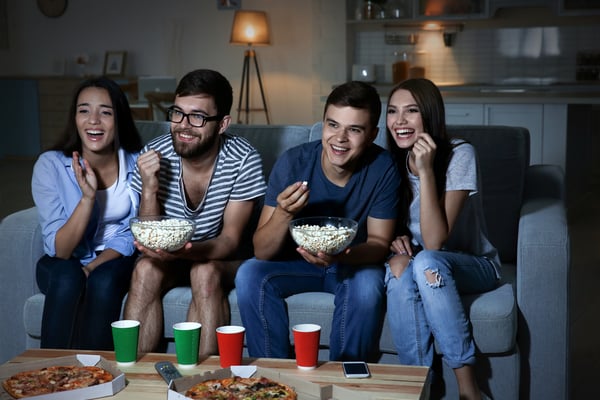 Line of Duty
Nothing is more binge-worthy than a good crime drama. Line of Duty follows complex police cases, and leaves you guessing until the very end. Jam-packed with acronyms all connected to the law and policing, it's almost like a different language but once you know, you know. You'll find you can't stop watching and NEED to know who did it! Watch next episode? Yes please!
QI
As well as dramas, shows like QI are a great way to learn more about the world while practising your English. QI stands for Quite Interesting, and that's exactly what this show is! The points system makes no sense, and the regular guest Alan Davies nearly always comes last, but you'll come away from an episode with a bunch of quite interesting facts to impress your friends with or even help you to win the next pub quiz.
The Umbrella Academy
A talking Chimp, a robot mother and a bunch of kids with superpowers? Sounds a bit far-fetched, but this show is one you won't be able to stop watching. Season 2 is due out soon, but for now Season 1 explores who exactly The Umbrella Academy kids are, and how they were brought up. What do you think? A co-ordinated bunch of criminals or superheroes doing good?
Altered Carbon
In a world where humans have defeated immortality by downloading their "consciousness" into stacks, a super soldier tries to find the woman he loves and ends up involved with a super wealthy business man to solve a murder. It's a murder mystery with lots of clifhangers and twists in an interesting dystopia. The main character is a bit of a mumbler, so subtitles are recommended!