All of our schools offer specialized modules or elective classes to enrich the English learning experience. Module classes are tailor-made to our students' needs and include pronunciation clinic, Pre-IELTS Grammar and Global Issues. We also ask our current students which skills they would like to focus on for their upcoming modules and then programme are put together to reflect these requests.
In Cambridge recently, we received lots of feedback requesting lessons focusing on written English. In order to fulfil this demand, one of the modules offered was one which focused on Poetry Writing, giving our students a creative outlet alongside the written guidance they were after.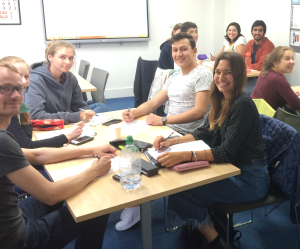 Their Stafford House Cambridge teacher, Mazhar, wrote a few words about why he thought it was a great way of exploring the English language in a creative and unexpected way:
"I believe poetry is a fantastic way of developing language skills as it is open-ended. Students have the creative freedom to use their imagination and write the most amazing poems. In addition, students learn the key language and features of poetry such as stanzas. verses, syllables, rhyming patterns etc.

The purpose of the module was to create a book called 'My Cambridge Poetry Book.' The idea was to write a different poem each day to capture the students' feelings and thoughts about their study holiday experience in Cambridge. The types of poetry written were: acrostic poems, haikus, limericks, kennings, sonnets and odes. Most of the students had never written a poem from the aforementioned categories nor heard of the poetry type before, e.g. Kennings. This lack of knowledge contributed towards the students learning something new and enjoyable.
The students responded VERY positively to writing poetry. Most had never written a poem and they were excited about working in groups so they could write and recite their poems to the class. One of the highlights of the module was when a student said,"I'm an engineer and I'm not able to write poetry!" However, this particular student ended up writing some of the funniest poems I have ever read.
I thoroughly enjoyed teaching the module as the students were so enthusiastic about learning new forms of poetry and writing a book. The poetry books that the students produced at the end of the week were very professional! I am proud of every single one of them! "
Thanks Mazhar for sharing your experience teaching this module! As you can see, providing our English students with new opportunities to expand their learning is the fun of modules. Did you take any modules at Stafford House? Which was your favorite? Put any suggestions for new modules in the comments!