The first day at a new school can be scary for any student. Add in the fact that you are learning a new language like English and students can sometimes feel overwhelmed. That's why the teachers and staff at Stafford House Cambridge have developed a system to welcome their new English learners to the school straightaway, aiming to help you make friends and feel a part of our diverse community.
Every week we have new students of all ages and nationalities arriving. The Academic Team looks at these details and matches up our arrivals with students who are currently studying with us. We try to match people of similar ages, but of different native languages, to really help the immersive experience kick off in the best way. We'll often look at where people are staying as well, and if students share the same accommodation, such as our residences or home stays near to one another, we'll match them up too.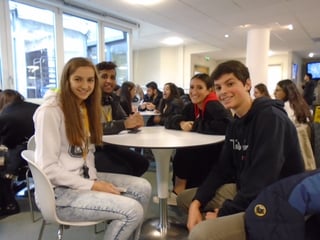 Students in the canteen in Cambridge
The current students, called Buddies, meet the new arrivals at break time in our canteen or in reception, and they are there to help the arriving students with any questions they might have about studying with us, life in Cambridge, or if they just need a friendly face. Our students will help you with whatever they can, and there are always teachers and Student Services Officers around to help too. We are always so proud when we see how happy and enthusiastic our current students are at this time. They really help to calm new students' nerves, and the sound of laughter always dominates the halls.
We have seen many examples of great, long-lasting friendships develop thanks to the buddy system, and it makes us so happy to see new students chatting and laughing throughout the school with students who have welcomed them into their friendship group. This really reflects the atmosphere of our school, where we want all of our students, no matter how long they will be studying with us, to feel comfortable and a part of everything.
Beyond the Academic Team's choices, we often have requests from students to be buddies. Why? Well, the buddy system also allows students who want to meet new people have a window to talk with people from a wide range of cultures, helping them all to improve their language and make great, new connections. Often students who find speaking difficult ask us to have a buddy, as the needs of a new student will always push them to overcome their fears of speaking in English!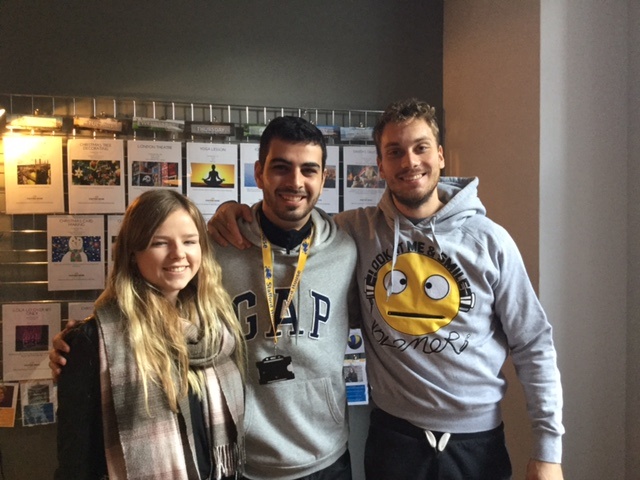 Friendships made from buddies!


We look forward to welcoming you to Cambridge soon and can't wait to have you join our family! From day one, when you meet your first buddy, to when you in turn welcome new students, we believe you will feel part of our wonderful community, creating an atmosphere of home and friends no matter how far from home you might be.