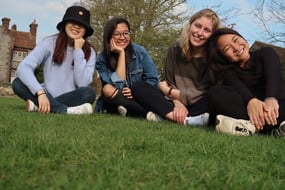 Hello everyone, I'm Nicha from Thailand. I am studying in Upper-Intermediate at Stafford House, Canterbury.
To be honest, studying in Canterbury was coincidental. Everything began when I was looking for language schools in England. I contacted an agency in Thailand and they offered me a lot of school choices in England, most of them in famous cities, but I was struck by the name of a city called "Canterbury". I had never heard of this city before. I read the name for a while as I was in doubt where it was. So, I googled and I found that it was a small city in Kent, The Garden of England. An aura of English tradition but blended with a modern style. This is exactly what I wanted because I do not like traffic jams, chaos, and noise but in Canterbury public transport is easy to access and it seemed really convenient. Finally, I chose 'Stafford House, Canterbury'.
When I arrived in Canterbury, I could feel something from the architecture and the cold temperature that I had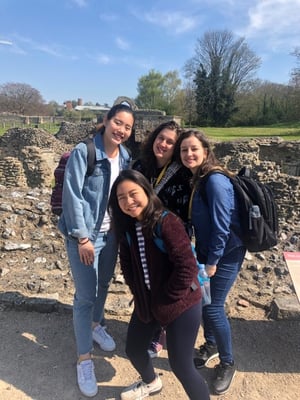 never felt before. The trees had no leaves. Everything reminded me that I was really in England.
I booked 'Host stay' accommodation and a taxi took me to the house. There are 3 members in my homestay; mum, her daughter and their dog. They have treated me very well and I really love their cooking especially Sunday Roast. I love it!
On my first day at school, in winter, I walked in -1 degree Celsius! I wore 3 layers of clothes plus a big scarf and a knitted hat. Along the way to school I was so cold and on my arrival I saw the school playground was frozen over. In school I made a few students and tried to speak English with them. Then I met Selina, my first friend, she's from Switzerland. She is so kind and lovely. Then I met 2 more Thai friends, Bii and Jennie, we had the same purpose that we needed to improve our English and we love to travel. Even though we are Thai, we decided to speak English because we are here to learn English.
On the same day, I did an exam and started in 'Intermediate Level'. My first teacher was Jon. He is really good- he always guided me and helped me to improve my English. Moreover, I had met Laura, my classmate, she is from Colombia and she speaks English very well. I could say that my speaking skills improved because of her.
If I could go back to my first day, I would not worry about my course being 6 months long and that I might feel bored because it is quite a long time but I would focus on the school providing many activities for instance sight-seeing, pool nights, and field trips.
Another topic that I must mention is the facilities in the school. They support students with smart boards in every room and a student portal for information about classes and activities. In the lounge, they provide a lot of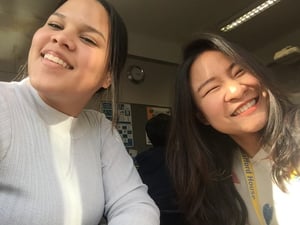 equipment such as microwaves, fridges etc.

The school is located just 5 minutes away on foot from the city center and the bus station is near to the city center as well. It is so convenient for everyone. The school also provides taxis for students who live far away from the school.

Finally, I feel that I am so lucky that I decided to come to Canterbury. Studying here I have not only gained knowledge but also life skills and have made a lot of friends from around the world. I would like to say thanks to Stafford House, Canterbury for giving me an opportunity to practice and improve my English.

Stafford House, Canterbury is the warmest school and it has always fulfilled my expectations. ~ Nicha