London IELTS student Moon, shared her story with us and used her excellent English skills to write it. Thank you Moon for sharing your story with us!
My name is Moon, and I come from South Korea. I studied English at Stafford House in London in 2015. After studying both General English and IELTS there for 5 months, I'm now studying Sociology at Leeds University. I really wanted to study here, as it has a great reputation here in the UK, especially in the field of Social Science, and it's close to Europe – which is great for culture trips during my holidays!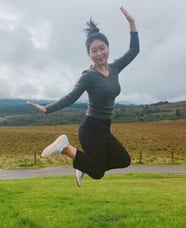 Moon enjoying life in the UK
As an international student, I needed to achieve at least 6.5 in IELTS, and after studying at Stafford House London, I got an overall 7! Having one-to-one classes with Claire was very helpful for me, particularly for writing academic essays, which can be quite difficult, even if your level of English is high. Those one-to-one classes allowed me to focus on areas which I found harder, and helped me pull my writing to a higher grade. It was also great practice for my university course, as writing academic essays is something I have to do all the time at uni!
I think studying in London is definitely the perfect location – studying here lets you learn about such a diverse international culture. I made so many friends from all around the world, and after classes we went to museums and galleries together. It really helped me to broaden views and prepared me well for studying in the UK. That's my top tip for anyone who wants to study here – make as many friends! It's hard to move to another country on your own and study in another language, so having lots of good people around you can really help. I felt a bit lonely in the first few weeks here, but now I have so many friends from all around the world – how good is that?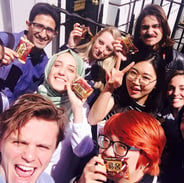 Moon and her friends from
London
After this course ends, I'm considering doing a Masters degree here at Leeds University again, and after that, I think I'd like to look for a job somewhere in Europe. I'm really looking forward to that – I'd definitely recommend anyone who's thinking about studying here to give it a go!
Thanks for sharing your story with us Moon! All your friends and teachers in London miss you and are so happy to see your success.