Our Cambridge student, Francisco from Chile, recently shared with us his experience making new friends and having new experiences in the UK. He is currently studying at Stafford House Cambridge and he practiced his English by contributing to our blog.
It is really interesting to know about other cultures. When I was in my country I learned about it just from my education in school. I had subjects like geography and history. So I learned a lot about Europe and of course history from my country. But it is one thing to learn about others and another to share in the same classroom, foods, conversations, it is totally different.
When I was studying (in Chile) and I spoke to the other citizens of my country they told me that 'people in Europe and Asia are very unfriendly.' How wrong they are! Now I know that it is not true. They are like everyone, we can have good or bad days, but all of us try to be friendly with the others.
These feelings evoke in my memory a movie called Good Will Hunting. It is a good movie starring Robin Williams. The movie is about a guy who is a genius, he has read a lot of books, and can memorize and solve math problems as well. But the problem is that he is very poor, he works in a university as a cleaner so he does not have money for a better education. He was also an orphan, his past was really horrible. But the major problem for him was he could not control his feelings so he fought with the other guys, and he was involved in assaults, robberies and so on.
For the last reason, he was forced to go to the psychologist to rehabilitate, but in the first session this guy offended him, because that psychologist had painted a picture for his wife before she died, so the guy told him that maybe the picture shows that he had married the wrong woman and explained why he thought that with the colors, shadows, etc. But the psychologist answered that he can´t explain his picture just by repeating ideas from a book and the reason is because we can learn a lot from books, but we can´t feel or smell just by reading.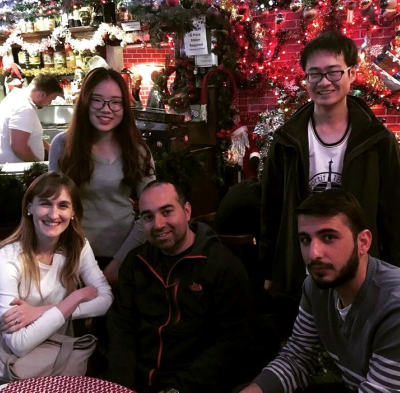 Francisco and his new friends in Cambridge
Front row: Ximena, Francisco (author), Soner
Back row: Yangmei and AO
That has happened with me, I learned that it is not the same to learn about other peoples as to share with them. Although I saw that movie, more than once, and also said it is totally logical. I never thought that I could make the same mistake as that guy. It has been an excellent lesson for me!
Thank you for sharing your experience with us Francisco! Did you learn something from your new friends when you studied abroad? Share with us in the comments!