Our Director of Studies, Julian, from Stafford House London wrote the blog below about his language adventures. We love that our teachers bring experiences from around the world to their classroom. Thanks Julian for sharing your travel with us!
I have travelled to many countries as a native English speaker and left with fantastic memories of meeting amazing people and seeing some of the most beautiful scenery. However, one thing I did not expect to love was learning bits of other languages.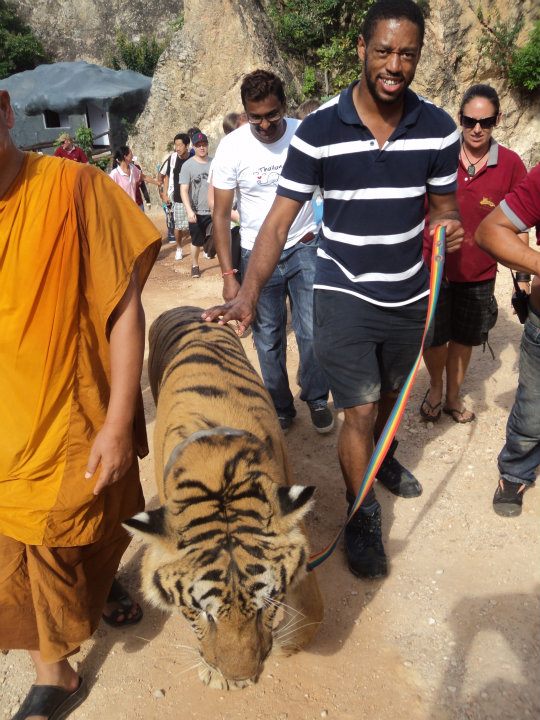 Julian in Thailand
Obviously, I wasn't able to learn the whole language of every country I visited - that's impossible – but I was able to learn phrases to impress locals and start conversations. It's easy enough to download apps on your phone to help with this and it's amazing how far you can get with simple phrases such as 'hello', 'good day', 'please', and 'thank you'. So far I can use these phrases in French, Italian, German, Spanish, Thai, Indonesian, Russian, Mongolian, Cambodian, Malay, Polish, Mandarin, Serbian, Hungarian, and Australian (yes, ok; they do speak English in Australia, but they have different greeting expressions from British English).
Fortunately for me, after the initial greeting, I was then able to then speak in English. I am very lucky that English is an international language and that there are many people in the world that speak it. So I have to say that English was vital for my travelling.
Students who are studying at Stafford House are in fact doing the perfect preparation course in order to use English for travel. In the classroom they are able to learn new language and then they are able to practise this new language with students from all over the world (inside and outside the classroom). When travelling, you will meet people with various levels and accents in English and this is exactly what we have at Stafford House too.


| | | |
| --- | --- | --- |
| | | |
| The Canary Islands | Chang Mai, Thailand | New Zealand |
My advice for anyone that wants to travel would be to join the social programmes at your school and meet as many different nationalities as possible. Don't just search for students with good English because you will meet people around the world with different levels of English. This means that every student, from Elementary to Advanced, will be a good practice partner. So go out there, practice your English, and travel the world!