Stafford House London has some pretty amazing English students for alumni. Omer from Turkey shared his story for our blog.
Hello, my name is Omer, and I'm from Turkey. I studied English at Stafford House London for five months between 2015 and 2016, and after that I completed a Masters degree in Computing in Education at King's College London.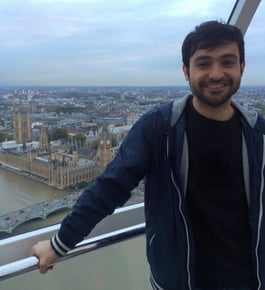 Overall, I loved studying at Stafford House in London – it has a friendly environment, welcoming teachers and great social activities that gave me the opportunity to make a lot of friends, and of course allowed me to practice my English!
The most beneficial thing for me at Stafford House in terms of my academic career was the 2 months of IELTS classes and Academic Writing modules that I took. They really helped me to improve my academic English and achieve the IELTS score which I really needed to be accepted into university here.
To anyone interested in studying in a UK university, I recommend taking the time to write a good personal statement. It's so important, and it's something that really added to my university application. I really enjoyed my time at King's in London, so much so that I am soon going to start studying for my PhD here!