Students enrolled at Stafford House in the US, UK and Canada all benefit from our dedicated school staff. All of our English schools have professionals focused on student services including housing and activities.
Laura from Stafford House Canterbury and Christianne from Stafford House Brighton shared their thoughts below on working for our English students and helping them thrive during their studies with us.

From Laura
As the Student Services and Process Manager from Canterbury I interact with our students on a daily basis. I joined Stafford House in 2014 and have been helping students succeed while they study in Canterbury ever since. The student services area is a great opportunity within a school to see what students have to do outside of the classroom. I can honestly say that not one day is ever the same, this makes the job so interesting and is what I love about working with our students.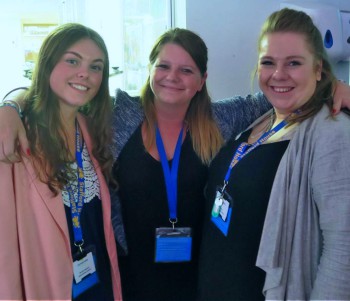 Within student services you have the opportunity to see a student's journey from arrival to graduation. I am able to see how a student has flourished and achieved in their study abroad. We deal with lots of different needs and questions on a daily basis. For some of our English students it is their first time abroad and it is a brand new experience for them. Other students have already travelled for work or school and maybe even studied abroad before. Every student is very different and I believe we learn so much from the students. It is just as important to help them learn about our culture and way of life in the UK as it is for me to learn about where they are from.
Each part of a student's experience at Stafford House is so important. I believe it helps students learn new life skills as well as improve their English language skills. From the moment a student lands at an airport they are learning. When they arrive at the accommodation (whatever they may have chosen) the student is now in a completely different environment to what they were in hours ago. At Stafford House I believe we help students ease their way into life in their new country by supporting, mentoring and helping them onto the next step of their journey.
From Christianne
Working as Student Services Manager at Stafford House Brighton has given me the opportunity to makes a difference in our student's English journey. I can help them to be able to fully immerse in a different culture and way of life.
I can say that living in the UK for 15 years, has made me a more open-minded individual and has allowed me to see the world in a different way; working as a student services manager, gives me the opportunity to help and understand our students from different cultures.
Showing our students the best of what Brighton has to offer is especially rewarding for me. I love sharing with our students the history, music, architecture or a new exciting fish and chips restaurant.
My favorite sites for Brighton students to check out right now are:
Bankers Restaurant - Great fish and chips place in Brighton
Sea Aquarium – It is the world's oldest operating aquarium
The Royal Pavilion – It is both a museum and an exotic looking palace in the middle of Brighton
Wherever you study within Stafford House there will be a dedicated professional staff member helping students adjust to their life abroad. Our staff members plan activities, book housing and handle general student issues. Did you have a favorite staff member at your school? Tell us in the comments so we can let them know.