One of our Cambridge students took the time to practice her English and write this blog about her experiences studying abroad. Thank you Tanyarat for sharing this us.
When I was young, I was an insecure person. I am always jealous of my friends who had lots of confidence. One of the difficult things is public speaking. Although I could speak Thai very well, I was very nervous and anxious. However, when I grew up, I needed to give many presentations every month. I had more confidence and got used to speaking to others.
In terms of English, I had some problems with listening and speaking. Even if my average skills were not bad, I still didn't dare to talk with foreigners. Therefore, I decided to study abroad in order to find new experiences and push myself to be better.
I am studying English at Stafford House Cambridge. My course is General English and I am in the upper intermediate level class. I have been here for two months but I plan to study until March, 2018. Not only can I get new knowledge from each lesson, but I can also practice my English skills so much especially listening and speaking. It is a good way to improve myself because there are group discussions which we can share lots of different ideas and all of the assignments are very useful. Moreover, the teachers and my friends will always help me if I have any problems. They also inspire me to be happy every day.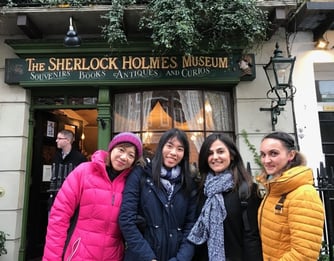 Tanyarat far left with friends at the Sherlock Holmes museum.
However, I have to face several difficulties. First of all, there are general differences between the UK and my country including weather, time zone, culture and environment. Since I can't get used to the cold and windy weather, I usually feel a bit sick. Sometimes I have a trouble talking to my family due to the time difference that Thailand is 7 hours ahead of the UK. Furthermore, it's important to learn and understand different cultures in order to adapt properly. For example, attitudes and personalities of people from each country are sometimes different and there are some bad gestures and words which I need to be careful with. As for the environment, many people tend to reduce the waste of plastic bags and cycling is very popular here in Cambridge as it can save energy and is a good exercise.
My second difficulty is about language. The first time I came here, my English was not very well thus I had a problem to communicate with other people. I often didn't understand what they said and they might not understand me either. However, there are some methods that can use to make contact easier such as using simple words and sentences, going straight to the point and using some gestures. The best thing I have learned is to be brave to speak and determined to practice it every day. "Practice makes perfect" that is absolutely true.
Another difficulty is about how to manage my feelings and attitudes. It is easy to feel homesick when you are very far from your home, your family and your familiar environment. I have had to face this problem since I studied in university thus it is not a big problem for me. Being positive and doing your hobbies are a simple way to make you enjoy your life.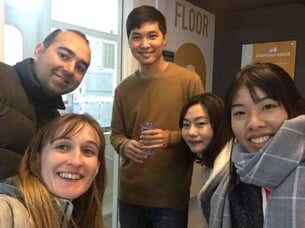 Tanyarat far right at the Cambridge school
Overall, studying abroad is a great opportunity to learn many things. Firstly, it drives me to get out of my comfort zone. I need to be more self-confident and highly responsible. Moreover, when you try to do something by yourself, it can make you stronger. Hence, it is a chance to find out what we're made of as I have to improve myself very much. Studying abroad also lets me open new world. I need to be open-minded to learn everything from different cultures with different people. Furthermore, discussion and sharing some ideas can make me have a lot of knowledge.
Finally, I have many lovely friends and amazing teachers. I am very happy because we always understand and take care of each other. Therefore, the most valuable thing I get from this school is all of the good experiences, all of great memories and all of 'you' that I cannot find from somewhere else.