Grantchester is a village to the south of Cambridge. It is famous for a number of reasons. These include its history as a place for writers to take tea, a recent eponymous TV programme and also for the fact that many Nobel Prize winners are said to live in the area, reputedly a greater concentration of them than anywhere else in the world. Every autumn, Stafford House Cambridge regularly takes students on a pleasant walk along the Cam River to spend a relaxing Friday afternoon in this picturesque village.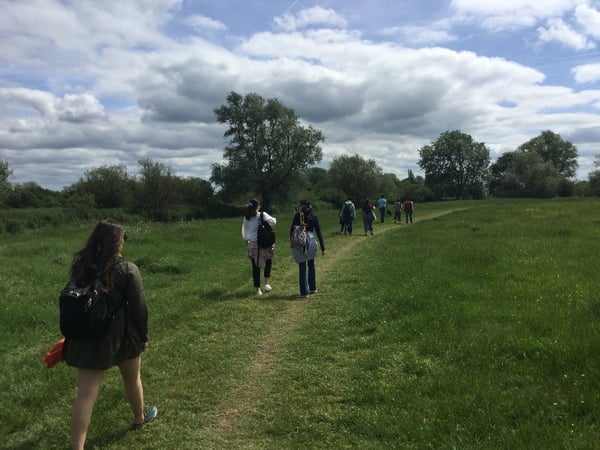 Walking from school just after lunchtime, we head through town, passing many of Cambridge University's colleges along the way, including St. John's, Trinity, Gonville & Caius, King's and St. Catharine's. Slipping down a side street, we arrive at Coe Fen, where our walk becomes decidedly more rural.
We pass through some quiet back streets before the city disappears entirely and we have entered the meadows. The river becomes our guide. We follow its snaking path, strolling along the grassy banks, shaking off the week's stress. Although it's possible to go to Grantchester by bus, taxi or bike, walking in the gentle summer sun is the most relaxing way.
After about fifty minutes, we arrive at our destination, The Orchard Tea Garden. Academics, tourists and locals alike all come here for a cuppa in the sunshine. It is said that in 1897, a group of Cambridge University students asked if they could take tea in the apple orchard and the practice continues to this day, with a café now serving numerous refreshments. It is open year round, but is best enjoyed when the weather is warmer and the days are longer.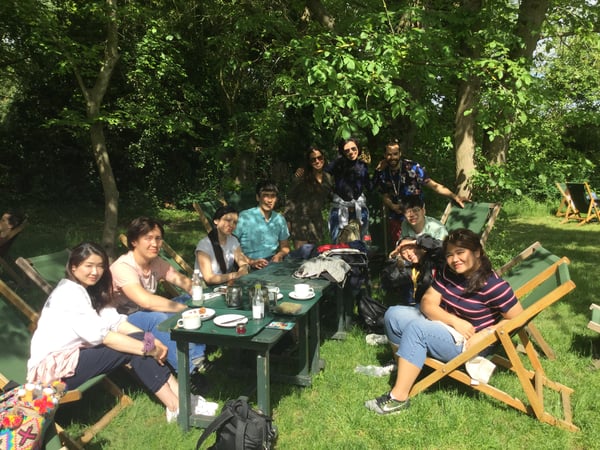 This is a fantastic place to have traditional British afternoon tea: scones with butter, jam and cream, washed down with a pot of your favourite brew. For people with special dietary requirements, there are numerous gluten-free cakes and on our most recent visit, there was a vegan cherry pie as well. In terms of drinks, those who don't like tea need not worry, as there is coffee, juice and soft drinks, too. The Orchard Tea Garden also serves hot food for if you are feeling particularly peckish after your walk.
Outside the café, there is an information board telling visitors about famous students and academics who used to frequent the place, including poet Rupert Brooke, economist John Maynard Keynes, philosophers Bertrand Russell and Ludwig Wittgenstein and novelists Virginia Woolf and E. M. Forster. Stafford House students are in esteemed company!
The tea gardens also host events. In August 2017 when we came, we happened upon a wedding party in the garden. We listened to the band and watched the dancing. In August 2018, as a way to say farewell, two students came with a number of teachers to attend a talk on philosophy. But for all the trips here, the best thing is getting to know your international friends in a beautiful local spot.
If you decide to study English at Stafford House Cambridge, be sure to experience this relaxing corner of the country!