Summer is finally upon us! Gone are the grey skies, short days and (fingers crossed) England's trademark rain. And while they are all undeniably a part of the charm of our little island, it's a nice feeling to have those long summer days stretch ahead, to look out of your window and see the lush green landscape of the Garden of England or to be able to flock to a traditional seaside town at the weekend.
Brighton, in Southern England, is one of our most famous seaside resorts. I am blessed with the breeze on my face, sun on my back and a multitude of seagulls overhead pestering anybody brave enough to bring food with them down to the seafront. I'm on the beach at the culmination of a typical week on the activity programme at Stafford House Canterbury to give you a little insight into what you can expect if you're lucky enough to be spending some time with us this summer. Attending activity programmes alongside your studies can really help to give you a complete experience of England while maximising your chances of practising your English and forging friendships which will last long after you've returned home.
Monday:
You'll hit the ground running when you arrive at school with the first day dedicated to settling you in and showing you around your new city. We'll take you on a guided tour of Canterbury, showing you beautiful historical sites and filling you in on some of the rich history of our city whilst giving you some of the practical local knowledge that'll help you to feel instantly at home.
Tuesday:
After your first full day of studies we like to slow things down a little with an in-school movie. We will show you one of the latest movies on the big screen, and it wouldn't be a true movie experience without plenty of popcorn, drinks and snacks! We always have the subtitles on in English so you can brush up on your reading if you want too. In the evening you'll get your first experience of an activity at the school, this is a really good opportunity to get to meet some students outside of your immediate classmates and will range from karaoke, to quizzes, to street dance and everything in-between. This Tuesday evening we are taking one of our out of school trips up to London to see Les Misérables in the West End, an experience you definitely won't forget anytime soon!

Wednesday: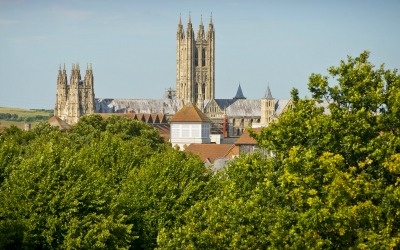 On a Wednesday afternoon there are optional local visits to take part in around Canterbury, giving you a glimpse into the long and varied history of our city with trips to museums and historical sites. In the evening we have our main activity for the week, a perfect example of which took place last week with a night of African Drumming with a professional teacher. It was hugely enjoyable and I can guarantee you haven't done anything quite like it before, take a look on our Facebook page and you can see for yourself!
Thursday:
On Thursday evening we like to venture out to sample one of Canterbury's myriad public houses, giving you a real taste of one of England's favourite pastimes and another great opportunity to get to meet new people from both inside the school and out.
Friday:
Our week ends with lots of varied options including an afternoon of sport for which you may get involved. Our staff wants to make sure you get your fix of exercise and endorphins with football, basketball, volleyball, badminton and table tennis to suit your tastes. Play well on the pitch and you can make it into the Stafford House Lions, our football team that plays in a local league every Monday evening. Added to the mix this summer is the hugely exciting prospect of the 2016 European Championships, with all of the games being screened in the school or watched at a local venue!
Weekends:
We like to finish off our week of activities by venturing out of Canterbury on excursions to some of the most important and beautiful cities around England, learning their history and visiting some of the most breath taking landmarks our country has to offer. Join in with these activities and excursions and you might find yourself with me on the beach, shingle underfoot, sun on your face, watching the birds cascade and wheel overhead as the sound of the local street musicians is carried on the breeze. I'm looking forward to it!
---
---