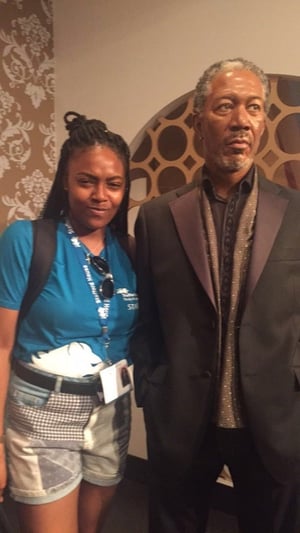 Hi guys, my name is Fatimah, and I am the Assistant Activities Manager at Stafford House Uxbridge. I have worked for Stafford House in the Uxbridge centre for 3 years and every year has been very different from the last. I have been able to go on amazing excursions such as Harry Potter world and Brighton and take part in great activities such as the Talent show and a Carnival Workshop.
Working and studying at Stafford house is such an amazing experience, and I am going to tell you 5 reasons why I know you'll love Stafford House.

1. Interactive activities
One of the best things about coming to Stafford House Uxbridge is the wide range of activities that take place on campus. Activities can vary from dancing the night away at the Disco on a Friday night to taking part in a selfie challenge or a Murder Mystery Game on Wednesday and Thursday; and of course there is a prize for the team that wins.
The selfie challenge is always a competitive activities because everyone loves taking a selfie, and the team that won this year took an epic selfie of themselves dressed as members of staff! The talent show is always an amazing activity as it is a chance to see amazing singers and people doing the floss. This week's winner was a student from China who did ballroom dancing!
2. The variety of trips
Now, if you aren't convinced by the activities, you'll love the excursions! My personal top 3 are Brighton, Oxford and Bath. The most popular trip this summer was Brighton; in Brighton you get to visit the amazing Brighton pier and go to Royal Pavilion which is such a beautiful attraction. Sometimes, if we are lucky there are parades that run through Brighton where people are singing, dancing and playing music and having a great time. Oxford is another trip that is loved by the students as you get to see one of the world best universities first-hand and also see the 'Great Hall' that was the inspiration for Harry potter movies.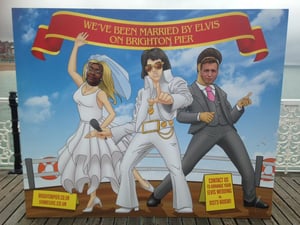 3. Great Teachers
I know as a kid I didn't like my teachers or classes that much - but at Stafford house the students love the lessons and sometimes even ask for more… I know it's hard to believe but its true; and all this because we have the best teachers - who love teaching and love meeting you. Luckily, you don't only see them in class, they take part in our daily activities and excursions too!!!
4. Seeing sports stars for free!
In the 3 years I have been here I have met a number of international athletes face-to-face, and that is something that I know I would not have experienced anywhere else. During the past 2 years, the Jamaican Athletics team have been on campus….. And yes that does include Usain Bolt - I know amazing right! Last year some of the student were able to run around the track with him during their sports activity! Currently, the Jacksonville Jaguars are on campus now -all the way from the USA, and student this year got to take picture with them!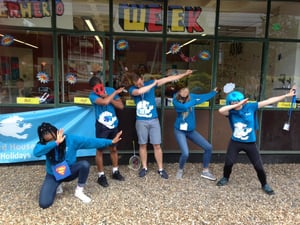 5. Most importantly, you'll have a memorable summer!
I have worked at Stafford House Uxbridge for the past 3 years and I can honestly say I has been one of the best experiences of my life so far. Meeting new people and experiencing things that I would have never done if not for my time here! If I can continuously have an amazing summer year after year as a member of staff; imagine how the summer could be for you as a student at Stafford House Summer School Uxbridge!
Hopefully, I'll see you next year!
By Fatimah
Thanks Fatimah for sharing your experience at Stafford House Summer Uxbridge!