Students learning English and looking for qualifications for academic or professional goals often choose to take a Cambridge English exam, such as First (FCE), Advanced (CAE), or Proficiency (CPE). These tests are available to take at various centers all over the globe. Our San Diego school is also a registered test center, administering the Cambridge Test four times a year.
The Cambridge exams are known for their rigor and reliability which is why universities and businesses trust a student's results. We offer Cambridge Exam preparation at seven of our schools for a reason. We know our English students want to be prepared to meet their academic and professional goals.
So, why do non-native English-speaking students choose to take these exams?
Proven Quality
They accurately and consistently test all four language skills – reading, writing, listening, and speaking, as well as knowledge of language structure and its use. They show results using the Common European Framework of Reference.
Internationally Recognized
They're widely respected and accepted by employers and educational institutions around the world as a certification of English ability for prospective employees or students. Find out which specific institutions recognize Cambridge exams.
Qualify for Work or Study
Students can use such qualifications for working in an English-speaking environment or studying at an institution for higher learning. Having Cambridge certification on your resume or curriculum vitae (CV) helps you stand out from the crowd.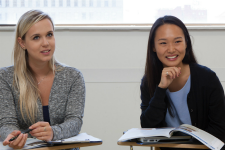 Achievement and Confidence
By taking Cambridge exams, students demonstrate their degree of achievement in English and feel confident in their level of proficiency. Preparing for a Cambridge exam helps students develop communications skills which are useful for daily, academic, and professional life.
Valid Forever
The Cambridge exam results are good for life. That means you can use the qualification as you seek work or opportunities for studying. There is no expiration date. However, don't let that keep you from aiming for a higher level of certification! You can always challenge yourself to go to the next level.
Learn more about what Stafford House offers for Cambridge test takers here.