---
In our module class, speak and write right, we were looking at the purpose of writing and why we need to write. We were talking about how important it was for us to find information about London before we came to Stafford House, and that we had all read a lot of blogs about London to give us some tips before we arrived (all the way from Korea, Italy, France, Switzerland, Mongolia, Turkey, Japan, Thailand and China!). However, lots of the advice was aimed at tourists, and we wanted to make something that would help all the other students at Stafford House to see the real London. We thought about our favourite things to do in London: places to eat, parks to visit etc. and created the advice that we wished we'd had before we came!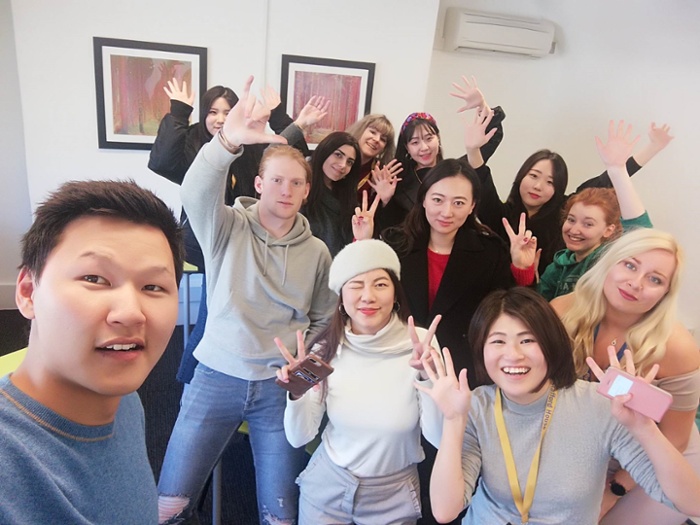 Places for afternoon tea: By Giulia, Seren and Suyeon
Afternoon tea is famous traditional drink for the British people.
They usually use milk for tea.
They also have tea with small cakes and sandwiches and there are some places have more fresh and light sandwiches and also some of them have various types of tea.
For examples, There are the three most important types popular in UK.
The one is Darjeeling, which comes from Northern India and is a light and delicate.
Other one is Ceylon which is slightly stronger than Darjeeling.
The last one is Assam which is a strong.
And it stands up well to being blended.
If you are interested in delicate flavours, you should try to drink a cup of Afternoon tea!
Places to eat: by in, coco and Chihiro
New Malden - Koren Food by In
New Malden is a suburb of south-west London, England. It is located mainly within the 'royal borough of Kingston upon Thames'. with a small part in the 'London Borough of merton'. and is 9.4 miles (15.1 km) from 'Charing cross'.
London's little Korea
more than 30 fantastic Korean restaurant in new Malden.
Almost 100 Korean shops including : supermarkets, estate agencies, study centres, hair salons and barbers.
The best Korean restaurant in New Malden
Han restaurant - (Apex tower, 1 high st New Malden kt3 4DQ, UK)
Kang nam - (19A high st New Malden KT3 4BY, UK)
Jin go gae - (272 Burlington RD New Malden KT3 4NL, UK)
Chinatown – Chinese food by Coco
Chinatown is located nearby to Piccadilly circus and Leicester square.
If you want to go there just get the tube and get off Piccadilly station or Leicester Square station.
When you arrive there you can see the oriental mood by the architect in there so you can feel as if you are in China.
At first, what you have to do is go to M&M's world. It's located at Leicester Square, 1 Swiss Ct, London, W1D 6AP
If you don't like chocolate just ignore me :) but I would like to recommend to go to this place because you can buy a lovely souvenir and you can get a beautiful photo to upload at your Instagram.
And then, I'd like to recommend you to go to the China market "New Loon Moon supermarket" It's located at 9a Gerrard St, London W1D 5PN
You can see a lot of foodstuffs which are from the east of Asia. You can buy Thai food as well. So if you are into cooking you can get a lot of oriental ingredients in there but be careful it could be a little bit spicy to you. For me, of course, it's not spicy for me ;)
Now it's time to have a meal!
It's my favorite time!! yum
There is a lot of nice restaurants. So it's difficult to recommend one thing.
But I dare to choose one restaurant is "Four seasons" It's located at China Town, 23 Wardour St, London, W1D 6PW
When I tried this restaurant for the first time it was a new thing to me my mouth feels like fly over the moon XD
There is a lot of kind of dishes, just try that!
Finally, it's dessert time. There are lots of sort of dessert I highly recommend the bubble tea. "Coco bubble tea"
It's located at Ground Floor, 52-53 Dean Street, Soho, London, W1D 5BL
If you haven't tried it yet, you must try that! It is very popular to Chinese as well.
Even though there is always long Que but I bet it is worth it!
Brick Lane – Indian food by Chihiro
BrickLane is one of the most excited place in London. It's a street in the East End of London and the closest station is Brick Lane station.
If you visit this place,you can find a lot of Indian restaurants and Bangladeshi food!! Because in the past many Bangladeshis migrated and started to live there.
The restaurant you should visit is definitely Aladin. You can enjoy a really delicious curry you have never had! Especially I highly recommend "chicken curry".
When I had that the first time, I was really amazed how the chicken was soft and the taste was nice! And I can't had a curry at other restaurants form that time.
And also "Bengal Village" is one of the best restaurants at Brick Lane.
What you should have there is...everything,of course! But I know it's difficult, so the first time you just try fish dishes! There are 3 fish dishes and it's really traditional. So you can enjoy a "real Bangladeshi taste"!! Please not miss such a great experience!!
London at night: By Grace, eurse and valentin
The energetic district of SOHO
London officially became a city that never sleeps, Soho is one of the best choice.
Soho is situated in heart of London's West End. The area covers roughly 1 square mile (2.6 square kilometres) so, it's easy to explore by foot. Soho is bordered by Oxford Street, Regent Street, Leicester Square and Charing Cross Road.
Soho has a lot of activities that you can find live entertainment, interesting food and amazing nightlife, I would like to introduce some restaurants in China town of London. Firstly, If you like eating spicy food, I will recommend you to go Jinli Chinese restaurant, this restaurant got Top 50 most voted restaurant and the golden chopsticks awards 2018.
If you are looking for fun night out, your first though should always be 'Soho nightlife' the street come alive every night. I will recommend you some of the best clubs, firstly Piccadilly Institute, 100 Wardour St and Thirst Soho.
Covent Garden is in the West End, London's main theatre and entertainment area.
You can enjoy a wide range of shopping, bars, restaurants, hotels and culture in central a London, the place bordered by the city on London.
You can partake in a marvellous show, the Lion King at the Lyceum theatre, its highly recommended, you won't see the time spend.
In Covent Garden, you also can have a drink on a rooftop with an amazing sight of London, you'll enjoy the terrace and spend a lot of time speaking with friends while you'll enjoy the breathtaking view. (Radio rooftop)
London by day: By batbandi and corina
Do you need a quite place and some time just for you? Or do felt in lave a planned a romantic walk? Let's go to one of London beautiful parks.
Here is a short list of our favourite parks:
Location: Get off at Green Park Station and walk 3 minutes
Activities to do:
Royal Gun Salutes
Park deckchairs for lying in the sun
Canada Gate and Memorial
Opening hours 05.00am-12.00am
Location: Get off at Knightsbridge Station and walk 2 minutes
Activities to do:
Wildlife
The Rose Garden
Hydepark Playground
Opening hours 05.00am-12.00am
Location: Get off at Regents Park Station and walk 4 minutes
Activities to do:
London Zoo
Boat and Pedalo Hire
Events
Wildlife
Gardens
Memorial
Opening hours 06.00am-12.00am
Location: Get off at Greenwich Station and walk 5 minutes
Activities to do:
General Wolfe Statue
The Wilderness Deer park
Greenwich park tennis centre
Opening hours 06.00am-12.00am
Thank you for reading and enjoy the green side of London!