Host families in all of our Stafford House cities help us provide an amazing experience for students. The hosts welcome our English students into their home and make them a part of their lives. If you are considering becoming a host family read our top reasons to do it.

1. Experience Another Culture
When you become host a family you are welcoming a non-native English speaker into your home and learning about their native country while you share your own.
'We love hosting international students because it give us a chance to learn different cultures, try new food and most especially create new friends" said Chuchi Diamse, Chicago. We learned so much already since we started, about places we have not heard about before and food we have never tried."
2. Share Your Culture
Our students learn so much about local and national traditions, foods and activities just from their host families. Students who are studying during US holidays like the 4th of July or Thanksgiving really enjoy seeing how
Americans celebrate. Since hosts provide dinner for the students, mealtimes are a great way to connect and practice English.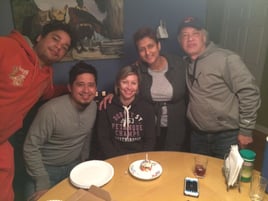 "The biggest thing most students learned while with us is cooking and sports" said Rosalind, San Diego host. "Since my profession is as a chef, and with both my brother and I being into sports, those two things are always somewhere in the picture" she said.
3. Make New Friends
Our students often stay with host families for a while and their English improves just hanging out with their hosts. We encourage our host families to include their students on activities and events.
"Both my husband and I are empty-nesters so this gives us a great opportunity to enjoy the company of the students," said Angela, Chicago. "We learn so much from them and we help them with English. We also love taking them out as much as possible to see Chicago to church, restaurants, shopping and movies," she said.
4. Grow Your Family
It is important to consider when you open your home to an international student that you may become attached and they will soon feel like family. We have alumni that come back to our cities as tourists and visit their former host families on holiday. It gives the student another opportunity to practice their English and continues their relationship with the host family.
"A couple stayed with me from Brazil" said Heidi, San Francisco host. "When I got the invitation to attend their wedding I couldn't resist and I had a blast" Heidi said.
The bonds families form with students can last a long time and really support them in their English skills.
"I had a pilot who came here to attend Stafford House to improve his English" shared Joy a Boston host. "He wanted to fly to foreign countries, so he had to become proficient in English. After graduation from Stafford House, he went back to his country but always kept in contact. He called us his American family. I also helped him with the grammatical revision of his resume. Today he works with a reputable airline and flies internationally. I am so elated to know I have helped this student to realize his dreams," she said.
5. Promote Your City
Host families are the best ambassadors for our cities. They show students around and since they are locals they know the best restaurants, shops and museums. We love when our host families share their favorite landmarks and introduce students to new neighborhoods and activities.
"As a host for a student, it's very important to ask the student what their intentions are when they chose to visit San Francisco" explained host Marian. "Then as a host we can really help and assist them in achieving that," she said.

If you are interested in learning more about becoming a host family in one of our US, UK or Canadian cities, please complete the application on our Host Family website page.