Need ideas for a date night? It's almost Valentine's Day, the popular holiday celebrating love and all things roses and chocolate, and if you want to take someone on a date, San Francisco is a great place to be! From wine tasting to sunsets on the Pacific Ocean, our city has many romantic places to visit. Here are some of our favorite places for a Valentine's Day celebration with your partner, lover, or friends!
1. The Cliffhouse at Sunset Perched above the Pacific Ocean, the Cliffhouse is a famous restaurant and bar with stunning views. Bring your date here for an impressive view of the ocean waves below, and then take a walk along Ocean Beach at sunset.
2. Boat ride in Stowe Lake Rent a row-boat (pay by the hour) and enjoy a calm day on this cute little lake in Golden Gate Park. See little bridges, waterfalls, and afterwards take a stroll through the Japanese Tea Gardens.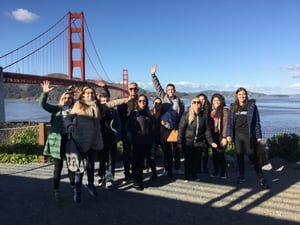 3. Drinks at Top of the Mark For a great place to sip cocktails, take the elevator to the 19th floor of the Intercontinental Mark Hopkins Hotel in the Nob Hill neighborhood. The windows in this lavish restaurant lounge will give you incredible views of San Francisco in all directions!
4. The Golden Gate Bridge This is a classic spot! Bike across the bridge, stand below at the "Hoppers Hands" landmark, or walk across the bridge and then up the hill (on the left) for one of the best places to take a photo.
5. Baker Beach On a sunny day, bring your beach blanket and picnic to this quiet beach with gorgeous views of the Golden Gate Bridge. This beach is a popular spot for marriage proposals, and we can see why!
6. The Palace of Fine Arts This soaring structure was originally built in 1915 and remolded into the beautiful site that it is today. Have a picnic under the trees, watch the swans, and enjoy this beautiful and popular San Francisco landmark. This is a popular place for wedding photos in San Francisco!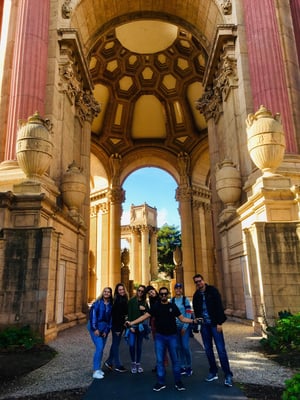 7. Dinner near the Ferry Building While the Golden Gate Bridge is our famous bridge, we also have another beautiful bridge: the Bay Bridge! You can see the Bay Bridge along the Embarcadero piers near the Ferry Building. Get a table outside at Hog Island Oyster Company restaurant to enjoy fresh oysters and experience the glowing sites of the Bay Bridge.
8. Angel Island For an adventurous day outdoors with great photo opportunities, take the ferry boat from San Francisco to Angel Island for the day. Explore miles of hiking trails with 360-degree views of San Francisco, the Golden Gate Bridge, and surrounding areas. Take a couple's selfie at the top of the hill with all of the city in the background!
9. See a movie at a unique theater San Francisco has many beautiful movie theaters, showing both popular movies and more independent films. You can reserve seats and sip a beer or wine inside the Kabuki 8 in Japantown. The gorgeous Castro Theater, built in 1922, has stunning architecture, and plays both old and new movies.
10. Wine Tasting San Francisco is only few hours drive away from the world-famous Napa Valley wine region, which means we have many of places to try wine in the city. Maritime Wine Tasting Studio and the Wine Merchant at the Ferry Building are both close to our school, offering a selection of great California wines.
Whether you're looking for outdoor adventures, sophisticated nightlife, or a relaxing day in the park, there is no shortage of romantic things to do in San Francisco! And remember, whether you're single or in a relationship or partnership, get out and explore this beautiful city and you'll be sure to make many memories from this experience!