This little lesson starts with a story. In high school I went to an all-girls school. I loved theatre and in Grade 10, I joined the Drama Club even though I didn't know anyone there. As if that wasn't scary enough, my all-girls high school partnered with an all-boys high school for the annual theatrical production, so in the club there were boys! Ack! To say I was nervous was an understatement but I was determined to join, meet new friends, and have fun.
---
The production we worked on that year had some dance numbers and so the drama teacher had a university student assist us with the choreography. His name was Xavier and he was a babe! One Saturday afternoon we were the last two people at the school still waiting for our rides to pick us up, and he turned to me to start a conversation. He asked what grade I was in. After I told him I was in grade 10, he nodded unimpressed and turned his head. He obviously didn't think I could carry a conversation and that made me angry. I was determined to prove him wrong. I thought to myself: "This guy thinks speaking with me would be a waste of time. Well no matter what, even if it kills me, I'm going to prove him wrong." And that right there is lesson number one: Take responsibility for the success of the conversation. If it's going to be successful, it's up to me. I will do what it takes to make it a success.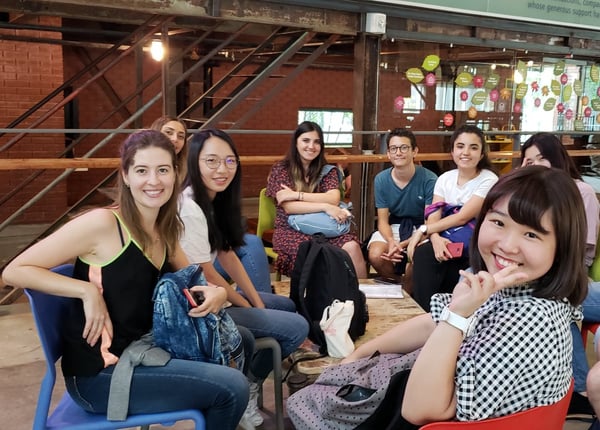 So, what did I do? I asked questions. That's lesson number two: Ask a lot of questions. I quickly realized that Yes/No questions didn't keep him talking long enough. I had to ask open ended questions. So my mind raced with:
"Who? What? Where? When? Why? How?"
"Who? What? Where? When? Why? How?"
"Who? What? Where? When? Why? How?"
Questions like these would yield longer responses from him and the time would pass faster. Furthermore, not only did I as a lot of questions, but I also listened intently to everything he was saying. I did this because I needed information so that I could ask him more questions. And that my friends, is lesson number three. Listen like your life depends on it. Look directly at the person you are talking to and they will know you are really interested in what they have to say.
After about 15 minutes, finally, my mom arrived and I could get outta there. I said good-bye pleasantly and went on my way. The following week, my drama teacher stopped me in the hall. "What did you say to Xavier?" Right away I panicked. "Uh no, what did I say? Am I in trouble?" Then she said, "He told me you guys had a nice chat on Saturday and that you were very intelligent and a great conversationalist!"
---
Pahahaha!
I was shocked! I replayed the conversation in my mind and went over all the lessons I had learned from that experience. The three lessons I mentioned above and then one more. Lesson number four is: People love to talk about themselves. Keep the conversation on them and they will think you are a great conversationalist.
Later, when I was older, I used these skills in future conversations. When I was dating, I learned lesson number five. After you have asked several questions about them, at some point, they should ask: What about you? If they are not equally interested in you as you are showing that you are interested in them, don't go for date number 2!
Before becoming Toronto's Director of Studies, Susan, taught Business English for 7 years and often incorporated the use of storytelling in her lessons. Thank you Susan for sharing this with us!
---