Fernano, Brazil, is a student at Stafford House Toronto. This is his story in his own words:
Hello students and non students! I'm here, writing to tell you how amazing an experience (you can have) in another country. My name is Fernando, a Brazilian journalist living in Toronto.
I hate airplanes. Since I arrived in Canada, I don't know how I was able to do this trip. But if you are afraid of airplanes too, just close your eyes and imagine everything you're going to discover. And that's the point. Learning a language in a new country, you're going to learn how to say goodbye and how to say hello. Every week we have new students coming and old students going back to their countries. And this is only the beginning.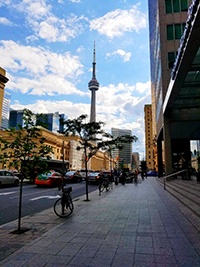 Canada is one of the most amazing countries in the world. There's everything that you might try to find. Toronto is incredible in every corner. The lights at night, the food all the day, the crowd with a lot of nationalities. It's like all the world in only one place. The streets are safe and all the public transportation options are good.
Toronto has a lot of pubs, clubs, malls, squares, restaurants, museums... And how about the CN Tower? Oh gosh. Of course, we do not live in heaven, there are problems too but they are not strong enough to make your trip boring.
Here is some advice:
The Canadians are very polite but they don't usually greet each other with hugs or kisses. If you are meeting a person for the first time, just a handshake.
Excuse Me - This advice fits for everything. If you are having a problem to walk or want to move to other place, just
say 'excuse me' and go.
The streets are clean. And they are cleaned exactly because people do not litter at all. So do not even think about drinking something and leaving it on the floor, even by a car.
Cross at a Crosswalk.

Look for the crosswalk. Here the traffic is respectful with everyone: bikes, cars and

pedestrians.
Shop the sales! During late summer, in mid-August, the country's stores often offer a variety of summer clothing promotions, and collections for the winter are beginning to emerge.
Plan like a local. Use the Daily Hive to find free events.
Not bad, eh? Hope to see you soon!
Thanks for sharing your experience in Toronto Fernando!