My favourite place in the world.
Those are the top six reasons I love Toronto, Canada, also known as the Six (thank you Drake). Yes, hip hop mega star Drake lives here and yes, Toronto is my favourite place in the world for so many reasons. Here's a few of them.
1. Multiculturalism is our Strength
Toronto is truly a mosaic with over 180 different cultures calling it home with 48.6% of the population being visible minorities. Taking the streetcar or simply walking down the street can feel like a tour of the world, with so many different languages, religions, and cultural traditions being practiced. The big thing about our multiculturalism though, is just how much everyone embraces it. We celebrate the coming together of differences, and that makes Toronto an awesome place for international students choosing to study English in Toronto. We're not a melting pot, we're a tossed salad.
2. A Booming Restaurant Scene
Speaking of food, Toronto has serious buzz with a booming restaurant scene. A new restaurant seems to open every day here, and because of our diverse roots, you can eat pretty much anything. I'd recommend great Haitian at Rhum Corner, or Thai at Khao San Road, Spanish tapas at Bar Ravaland I could go on and on. Did I mention that we have the biggest Chinatown outside of China? If you want to eat for days for $6, check out New Ho King for your late night survival.
3. Sports Sports Sports
Last year, all four of our major sports teams made the playoffs! That's right, our Blue Jays, Raptors, Toronto FC, and even our woebegone hockey team the Maple Leafs made it to the post-season. It was electric in Jurassic Park (that's what we call the area outside of our arena!). If you come to Toronto, you have to go to the Air Canada Centre, the Rogers Centre and BMO Field.
4.

Safe, Clean & Cool



Toronto is a well-organized, safe, and clean city, but not too many people know that we have a cool streak. Want to hangout with the hipsters? Go watch the city come to life at Trinity Bellwoods Park on Queen St. West. And if you grab a selfie with the white squirrel that's bonus!
5. Big City Dreams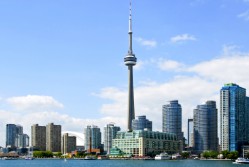 Be like Drake and take the elevator up one of the tallest buildings in the world, the CN Tower. It's a great spot to think about your future, propose to your partner, or get a serious adrenaline rush. Yes, Toronto is the 4th largest city in North America (not many
know that), and the CN Tower is a great place to take the city in in all of its glory.
Come visit Toronto soon and see for yourself why this city is my favorite. Have you been to Toronto? Leave your favorite things in the comments!