Calgary, like every city, is opening its doors after the global pandemic. To see how Stafford House Calgary is reopening, we spoke to centre director Ish and his team about how they are getting students back to class.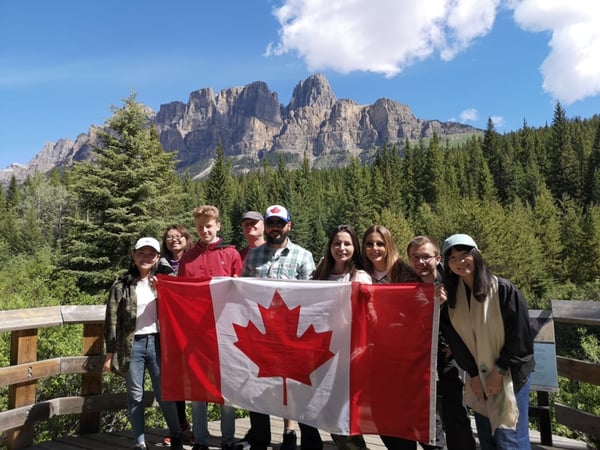 Getting back to English Class
Ish – We couldn't wait to get back to class, we've really missed having students in the school, and even though we were running all our English classes online, there is nothing like a school full of students learning together and making friends.
On the first Monday back we had a real sense of anticipation and were a little bit nervous! Then, when all the students started to arrive, we jumped into action, using all our new health and safety training and techniques and got all our students through check-in and into their English classes as soon as possible.
We have always had a great school culture in Calgary and all our students and staff really loved the new WeCare Pledge safety measures we have put in place as they enable them to get back to learning English in Calgary the Stafford House way!
A very special student reunion
A lot of our students had only met in zoom English classes or had not seen each other for four months. So, the first week back was extra exciting for everyone – it was like a school reunion! Being able to say hello, share and learn together has lifted everyone's spirits so much! And not just the students, our English teachers were so glad to be able to see their classes in person again! Even during our first class of the day, we felt almost back to normal, walking around the school you could hear people talking, laughing and learning!
New ways of learning English
The health and wellbeing of our students is our highest priority. We want to make sure everyone can learn English and reach their goals whilst staying as happy and healthy as possible. To do this we have been really creative with how our students learn.
We have banned books and photocopying to limit any virus spread, and are providing all materials digitally for our students to access on their devices. As everyone has been home for a long time, we have been encouraging our students to practice their English skills in new ways. For example, we are encouraging all students over English level 3 (pre-intermediate or IELTS level 2.5 - 3.5) to switch their phone language to English. This helps our students get comfortable with using English everywhere and not just in class!
Our First Graduation Back!
Our first few days back to face-to-face teaching went very quickly! By the end of the week, everyone was used to social distancing, having their temperature taken, using hand sanitiser and wearing a mask in the school.
At the beginning of the week we felt like we were making small steps back into the world, but by Friday we were making huge leaps! The most exciting time of the week at Stafford House Calgary has always been Friday graduation, and this one was extra special. Not only was this our first face-to-face graduation since early March, we had a student graduating from our Canada University Pathways programme who we have helped get a place at SAIT to start this September!
The Stafford House Calgary English School is located in the exciting main business district of the city, a quick walk from the shopping centres, restaurants and the beautiful Prince's Island Park. Calgary has been voted the most liveable city in North America for two years in a row, and you can see why when you take a walk to Stafford House Calgary, the streets are clean, the people friendly and you can take the train for free in the city centre! As cities go, there not may better places to learn English in Canada!