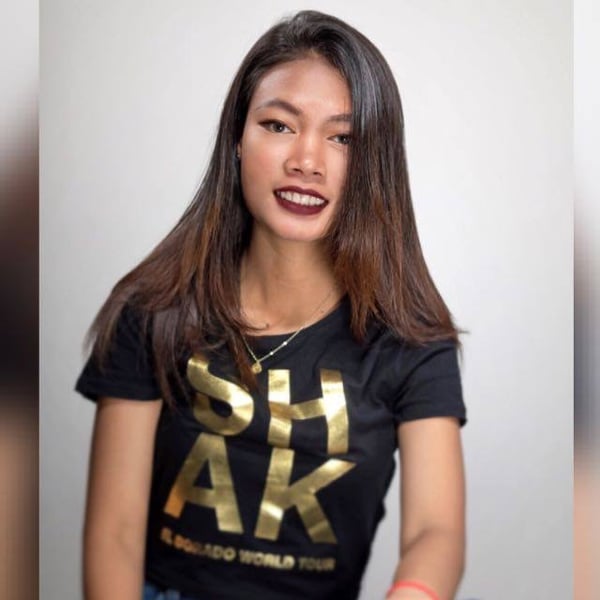 Channa, Cambodia
I grew up in a small jungle village in the country side. My parents died when I was 6 years old. Later on, my sister and I left the village to Phnom Penh city. After that, I worked as a scavenger to feed my family. I worked from twilight til dawn and earned seventy-five cents per day. Oddly, I always thought my life was useless and I had no chance to carry a school bag or any school materials. Instead, I carried a rubbish bag and walked to disgusting places. Flies were everywhere. The smell was completely terrible and I was so hungry so I picked some left over food for lunch and dinner. I had worked there for two years.
Then a group of foreigners came to my neighbor's house. They went there to choose poor children to live in their organization. I could not understand or speak any English words. Fortunately, there was an interpreter who came to us and asked if we would like to stay and study in the center. We were so excited and agreed happily. Three months later, we moved to "A New Day Cambodia Organization". The building was amazing and so comfortable and healthy. Moreover, there was free education, shelter, food, clothes and our family always got $10 per month. In 2008, they sent us both English and Khmer school; I studied so hard to pass all subjects and the director tried to transfer me from public school to a private school and I learnt English there.
I never ever expected that one day I would have a chance to come to the United States but it was always my dream for many years. By 2015, my dream came true. My sponsor surprised me by inviting me to visit Chicago for 3 weeks. in 2016, my sponsor bought my flight ticket again because they wanted me to experience Christmas holidays in Chicago. I was really happy to shop in many modern places and to learn different celebrations in the USA.
By visiting America, I began to understand the complexity of my sponsor's lives and I learned the people who don't have good education will not succeed. In 2017, my sponsor arranged that I could come back to USA to study English at Stafford House, get my high school degree and hopefully I go to college. Moving to the United States is the most remarkable event in my entire life. Studying in the USA is very different than Cambodia. It allows students from around the world to experience the diverse American culture in and out of the classroom. The students learn to adapt to different environments and to communicate more effectively. There are three critical benefits of studying in the USA including improving English skills, experiencing cultural diversity and gaining new opportunities. Learning a new language is not an easy task, but I always encourage myself so that I can achieve my goal. I learned to speak fluent English faster than I ever expected and I feel more comfortable in this new environment. I now have many opportunities to access knowledge for my future. Also, there are many interesting activities to do and see in Chicago such as biking, sporting events, music festivals, arts and museums. I especially enjoy the Chicago Riverwalk. It is one of my favorite places to visit. The other one is Millennium Park because it is the top tourist destination in Chicago.
To sum up, the differences between living in Phnom Penh and Chicago have changed my life in many ways. But it's not the food, the weather, the culture or the people that are the biggest changes that affect my future. The biggest differences is my education and my opportunity to achieve childhood dreams that I once thought were unattainable.
~ Channa