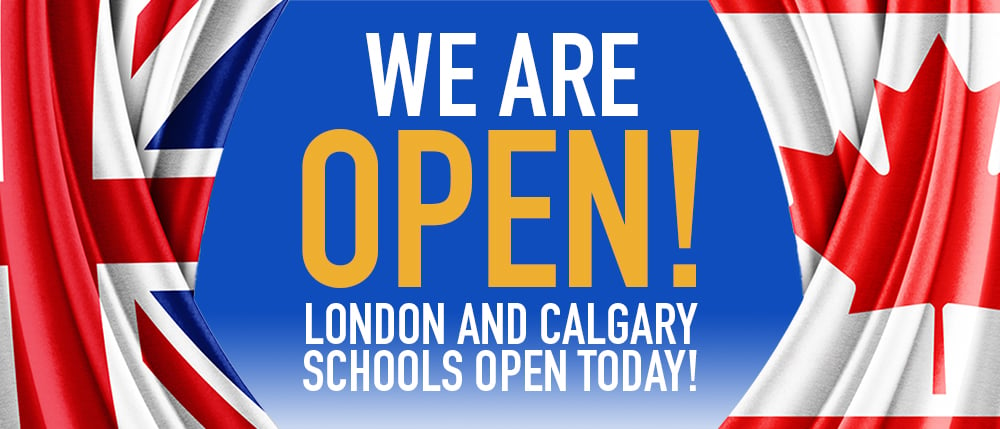 We couldn't be more excited! Our London English School and Calgary English School have both reopened their doors to students for face-to-face classes this week! We have taken a quick tour of both schools to see what they have in place for the reopening and to see what all Stafford House English Schools are doing to ensure the health and well-being of our students and communities!
4 months is a long time to not be able to see our favourite students in our UK and Canada English Schools! During these months of world-wide lockdown, we've still helped our students achieve their goals, by adapting to a new way of teaching English with online classes. But there is nothing quite like the education experience you get from being in a real English school, learning in a real English Class in a big, vibrant city, with all your classmates around you!
Our Pledge
Staying home has been important, and we've all had to help each other out. Now that we can go back to class, we have taken incredibly seriously our responsibilities to everyone in our school communities. So that we can re-open our English schools and ensure the safety of our students and communities, we have created our WeCare Pledge, which consists of 14 measures in place to keep everyone healthy.
We are excited to open our doors and to make sure everyone is confident to come back to class, to demonstrate how we will help everyone in our school communities health and wellbeing, our London and Calgary teams have given us a quick tour of how we will reopen!
Stafford House London English School
We are very lucky to have our beautiful English school in the heart of Bloomsbury, in central London. We are only 2 minutes' walk from Holborn Underground Station and 15 minutes' walk from Oxford Street! This means that we are in quite a busy part of London, so we have been extra thoughtful when implementing our safety measures to open the school and to help students get back to class. We will have very small English classes, everyone wearing masks, lots of sanitation stations, we'll check everyone's temperature - we're taking the health and safety of our staff and students very seriously. Our principal Connor has even demonstrated some of our PPE!
Stafford House Calgary English School
We are super excited to be reopening, and like all Stafford House schools we have implemented the WeCare pledge to ensure everyone is healthy in our school! Our Calgary English school is open and airy, so we have been able to implement lots of social distancing measures to make sure everyone can distance and still have the best time learning English at Stafford House! As part of the pledge, we have care kits for every student and daily temperature checks. All our staff are wearing masks and are looking out for the wellbeing of our students – as well as helping them reach their academic success!
Our Calgary principal Ishmael Johnson, took some time to show us around the school before reopening!
Getting Back to Class
We are so excited to be getting back to class in London and Calgary! But these are just two of our amazing English schools in the UK and Canada. Our other location, the legendary Stafford House Toronto English school, will be reopening very soon on the 17th August. The world famous Cambridge Stafford House English school in the UK will follow on the 7th September, and Brighton and Canterbury will reopen on the 5th October 2020! Find out more about our reopening plans on our Open 2020 hub!
We are taking bookings for all our schools and our student advisers are ready to help you get back to class as safely as possible. Contact us now to book your English Course in the UK or Canada!