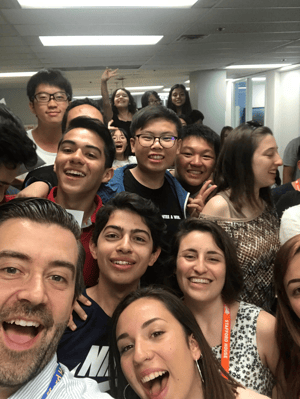 Hi everyone, may name is Jamie, and I am excited to talk about my city, Toronto! For me, Toronto is a sample of the entire world put into once place. There are over 200 cultures here in Toronto, TWO HUNDRED. When you walk down Spadina, you're going to hear English with a hundred different intonations, and you're also going to hear dozens of different languages. Toronto is truly like the United Nations on the street. Canada was born on the idea of cultures coexisting peacefully together, and it is inspiring on a daily basis to see this in practice in the real world.
A personal story about this -- one summer long ago I shaved my head. I went for a walk down Bloor Street, which is one of our main busy streets close to University of Toronto, and I was stopped not once, not twice, but thrice by a variety of older gentlemen who all spoke to me in their native languages. The first gentleman thought I was Ukrainian, the second thought I was French, and the third thought I was Italian. The best part is, they were all partially right. While my parents and myself were all born in Niagara Falls, my great-grandparents were from all of those countries!
That bleeds over into a big reason why I love this city: the food. Toronto is one of the largest cities in North America, and New Ho King - incredible Cantonese food, three dinners worth for under eight dollars.the biggest by far in Canada, so we get some of the best chefs in the world calling Toronto home. David Chang opened up one of the only Momofuku's outside of New York, and it is one of my favourite places to go eat and see movie stars during the Toronto Film Festival (which is another reason why I love this city!). We also have a lot of not-so-famous, cheap but delicious food stops all over the city. My top recommendations are always:
Khao San Road - best Thai in the city, and it has an amazing bar upstairs with great local beer

Blood Brothers - speaking of beer, best brewery in town on the new cool street, Dupont St. They're always changing their beer list and making some amazing new concoctions. Can you say milk tequila infused beer?

Banjara - favourite Indian food. Their Palak Paneer is insane.

Superpoint - amazing pizza and serious cocktails

Terroni - wonderful Italian and great patios (we Canadians love patios …)
My big dark dirty secret is that, yes, I was in a band. It was for good reason though because Toronto is one of the best music cities in the world. Did you know that Drake, The Weeknd and Alessia Cara are from Toronto? Have you ever heard of Broken Social Scene or the Arkells? Well, you should because they are amazing. I always tell students to go check out bands for free at The Horseshoe Tavern, one of our legendary rock bars, because they might be watching the next big thing. We also have North by Northeast each year in June, which is a huge celebration of indie music. You'll have to google my name to find out about my band though!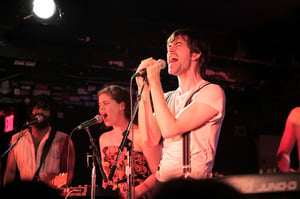 Toronto is experiencing something like a sports renaissance right now. Sure, we're Canadian so we love our hockey team The Toronto Maple Leafs, but we're not just about hockey! The Toronto Raptors, our NBA team, have been one of the top teams in the league for years now, and our soccer club, the TFC, won the MLS cup last year. And of course, our beloved baseball team the Toronto Blue Jays have had a great run the past few years too, and who doesn't love beer and baseball?
Last but not least, I'd like to talk about the people. There's something about a Torontonian, they're polite, tolerant and accepting of any one, no matter who you are. It's the thing that I like most about this city, and the thing that students tell me they love the most about Toronto. We always want Stafford House to become your Stafford Home, and in Toronto, that's easy.
~ Jamie