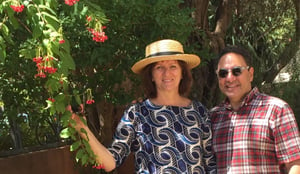 There are so many wonderful aspects of hosting Stafford House students. As host parents, the experience is enriching. I especially like to watch the transformation that takes place in the lives of students during their weeks and months with us. Most students are visiting the USA for the first time, and for many it is their first time away from home. Everything is new, and often frightening. Most often, the first week is a challenge; new time zone, new smells, new food, new culture, the big city is overwhelming, the host family is different, etc. By week two and week three the students have adjusted and are feeling comfortable and confident in their new surroundings. They begin to make new friends and start to venture out and enjoy the great city of Chicago. I love Chicago and it makes me happy to hear about the many places they have explored.
As a host family, it is rewarding to watch the strong bonds that develop between the students who live together in our house. I appreciate the fact that Stafford House works very hard to ensure that houses are ethnically diverse.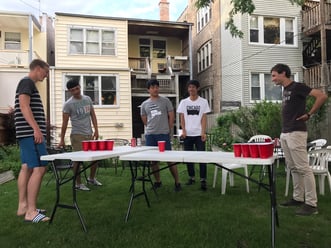 Throughout the course of the past year it was amazing to watch students who were from different parts of the world form a brotherhood and become known as the Milco Bros. We had the joy of hosting students from Switzerland, S. Korea, Taiwan, Thailand, Japan, Columbia, Brazil, Germany, Italy, Spain, and Saudi Arabia. When one student left and a new student arrived, the Milco Bros worked together to help the new student adapt to the their new environment. It was a pleasure to watch them look out for each other.
At times we host students who are uncomfortable with each other because of tensions that exist between their countries. Perhaps the aspect of hosting that I find most rewarding is watching strong bonds of friendship develop between two young men who didn't believe such friendships were possible. I believe Stafford House is a place where a foundation in international relations is developed in young people from all over the world. They learn about people and the beautiful aspects of different cultures. The world opens up in a new way. On several occasions, students have sent me pictures of their visits to the country of one of their classmates. I think these reunions in other parts of the world says a lot about Stafford House and the strength of their programs and the investment they make in the lives of their students.
Without exception, our students love Chicago deep-dish pizza. We have enjoyed countless evenings sitting around our dining table talking about politics, culture and the events of the day while enjoying Lou Malnati's or Giordanno's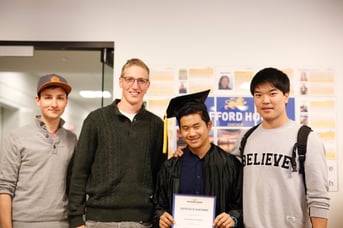 Pizza. Conversations are lively and at times difficult to understand but we work together to understand, improve pronunciation, and grammar. Last year we had a young student who spoke Spanish. He was delightful and funny. Everyone in the house loved him very much. During dinner he was very excited to tell us about his day, his family back in Columbia, or the Chicago Bulls game he watched the night before. He loved to talk but he only spoke Spanish. No one could understand anything he said but he was delighted to tell us anyways. It wasn't long before he developed confidence and started to speak English – bit by bit. It was fun watching him improve. When it came time for him to return to Columbia, he was so happy at Stafford House that he extended his stay.
For my husband and I, this is an experience that must be lived. Reading about amazing hosting stories truly doesn't give the program justice. We have become parents to many all over the world and we would not be who we are today if we did not join this journey of welcoming our new sons into our home!
Thank you for sharing your experiences with us Karen & Mike!