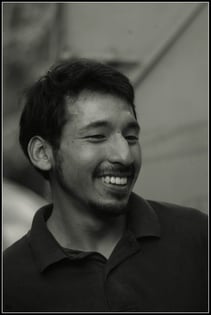 Time flies when you are studying abroad. It is hard to believe but it has been a year since I came to Chicago and now there are a few things that I have started doing as part of my day-by-day life. Some of these are, becoming a big-city commuter, looking for the best place to buy groceries, budget planning, or looking for cool places to go. In general, everything that makes me part of this anonymous mass while keeping my uniqueness.
I would like to be a nomad one day. Travel, stay, and travel again. I would like to know how places are, first-hand through the people who live there rather from books or faraway. So, by studying abroad and specifically at an English language school (ELS) I have the chance to meet people from everywhere! It is like traveling without moving and that is cool.
My cousin lives here, and he was the first person I moved in with. I will say that having someone you know to help you answer questions, makes the culture shock a lot easier, and within two months I felt comfortable enough to move and live with 10 U.S. people (!), in a big four-floor house in Uptown, Northside of Chicago. I met my partner and friends here. And even though, I have made new friends and old - because it is the longest period of time, I have spent away from Chile it feels like having that real nomadic experience I've been longing for.
It is mostly on my way to school when I have time to reflect and observe and the cadence of the train helps a lot for that. I like to stare at the window instead of going on my phone. I like to see how the landscape changes while the train moves forward and zooms from above-ground to underground. One of my favorite things is the cemetery between Wilson and Sheridan station. The train takes a curve there, which make it go slower. Another way I use to commute is biking. When it is spring or summer and the sun is shining, using my bike feels like freedom. Either if from home to school or all the deviations in between, biking in Chicago is a very nice experience specially because of the infrastructure for bikers.
That culture thing is contagious. Even when I tried to avoid absorbing some of the cultural traits of U.S. people, I have found myself doing somethings that I could not understand at the beginning. The physical distance is one of them. For a South American, greeting by kissing in the cheek is the most normal thing. For the most open-minded of us, even kissing your male friends in the cheek is ok. But not here. Here shaking hands is the norm. This is just one example of course.
On trips at schools, and from friends I have learned about the history of Chicago and the United States - the political climate, styles, U.S. preferences, sports, The Chicago Fire… and I am excited to see what I will learn the longer I stay here.
Joakin is a videographer hailing from Chile but now calls Chicago home. Motivated by unceasing wanderlust, he began his studies at Stafford House Chicago nearly one year ago. When he's not tracing the steps of the city's great artists, past and present, Joakin contributes to enhancing the experience of his peers as Student Ambassador.