The i360 is a unique and striking 450 feet high observation tower on Brighton beach front, designed by the creators of the iconic London Eye. From the glass viewing pod, which can hold 200 people, one can enjoy one-of-a-kind 360 degree panoramic views along the spectacular coastline, across the South Downs and across the English Channel.
The ground-breaking tower, which cost £46 million and took two years to build (July 2014-July 2016), will be the world's first vertical cable car and the world's slenderest tall tower, which is expected to appear in the 2017 Guinness Book of Records, making it an unmissable experience.
The distinct i360, which is estimated to attract 750,000 visitors every year, has been described as an innovative, aerodynamic and energy-efficient landmark, which, due to its individuality, will have universal appeal and help with regeneration schemes.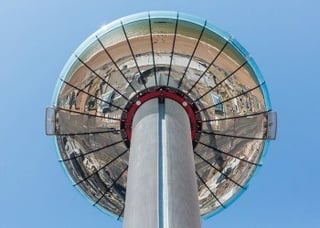 The glass pod, whilst aesthetically delicate and beautiful, is incredibly robust with each section being 4 panes thick. The pod sits attractively in its beachfront setting, and creates an all-around view of the stunning surrounding scenery.
With spectacular views, exceptional dining and space for celebration, a visit to the i360 is not one to miss!