Brighton and Canterbury are both cities with their own distinctive British style – one thing they do have in common, however, is that their Stafford House English schools are reopening for face-to-face classes on Monday 5th October 2020!
We thought we would take a look at both of these schools, what Covid-19 safety measures they have in place and find out why both cities are a great destination to learn English!
Stafford House Brighton
Brighton may be first thought of as a summertime city-with its endless beaches, bright and sunny atmosphere and its great nightlife – but it is a great destination to visit all year-round!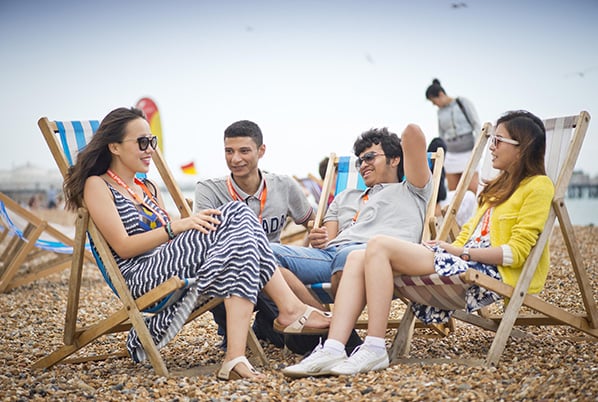 Stafford House Brighton is usually a very lively school in the summer. Things were quite different this year as English teaching moved online, but we cannot wait to invite our students to explore their English in this iconic seaside city during the autumn and winter months. The school team have been preparing around the clock for the arrival of students. What's more it feels like the city of Brighton has been preparing around the clock too – many festivals such as the must-see Brighton Fringe have been rescheduled for later in the year so visitors can still enjoy the best of the city!
Our Brighton School Principal Simon is an expert on all things Brighton and always ready to advise you on the best way to explore your English when in town! He recommends the promenade as a great place to visit as there is plenty of space to distance and still enjoy all the pop-ups, shows and the outdoor cafes!
Why Learn English in Brighton?
You should learn English in Brighton as it is where the English language gets to evolve! Brighton is the UK's social media city with a strong arts community and many well-known influencers and creators choosing to live here! Learn English at Stafford House Brighton if you want to discover English for the future!
Stafford House Canterbury
Canterbury is a real gem and Stafford House Canterbury has been part of this friendly countryside city for a long time. Like Brighton, Canterbury has a great summer-time vibe with groups of students flocking to the city every year for academic excellence and the beautiful Kent countryside and coast.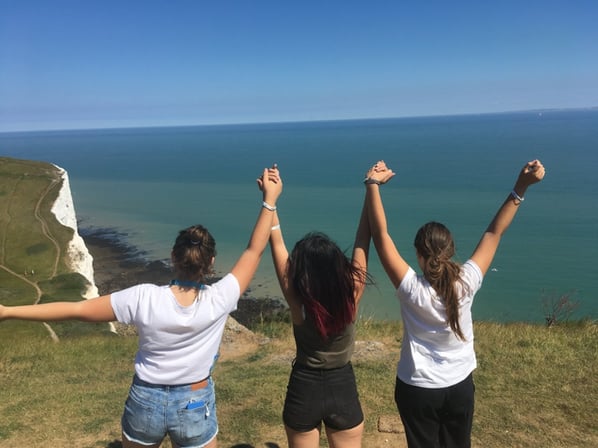 Canterbury is still an ideal place to improve your English all year-round. Being one of England's most historic cities, international students are always able to find some inspiration amongst the stunning medieval architecture and the open green spaces. Exploring this city really gives you a feel of how ancient the English language is – everything you can imagine as a classic English adventure is within reach; the school is just outside the historic centre, ancient woodland and rolling countryside are never far away, country houses and estates dot the landscape, and you are less than an hour's train journey from London!
The Canterbury school team have been really busy this summer, as well as getting the school ready for the return to face-to-face classes, we have opened a new student residence – right next to the school! Holmes House, has been fully renovated and features fully furnished rooms with private bathrooms and a shared kitchen for each group of six students. It is the perfect residence if you want to get to school quickly! You can pretty much roll out of bed and be straight at the school – just remember to sanitize your hands and put your face mask on!
Why learn English in Canterbury?
Learn English in Canterbury if you want to experience history and English culture in a place where the language was made! Canterbury is home to Chaucer, who wrote the renowned Canterbury Tales, a classic volume of work that has had a huge influence on English literature. Canterbury is the perfect destination for you if you want to improve your English and be inspired by the richness of British history.
Reopening with safety in mind
Both Stafford House Brighton and Stafford House Canterbury will be reopening with the safety of our school communities as their highest priority. As in all Stafford House schools across the UK and Canada, we have implemented the #WeCare pledge and will be following all recommended health guidance from the government.
Both schools are very lucky to have lots of airy classrooms and social spaces and we have been working hard to adapt the schools for social distancing. At both schools the team will be guiding students through the safety measures as soon as they arrive and throughout the school day. Anyone who comes into the school will have their temperature taken and class times are staggered so everyone can move around the schools with plenty of space. All staff and students in the building will need to wear masks and hand sanitizer will be available throughout the school. All students have an allocated seat and we have implemented digital materials so you do not have to touch any books or papers in class. You can read more about the WeCare Pledge here.
If you want to learn English in the UK and want to stay in some of the most beautiful historic cities in the country, Brighton and Canterbury may be just for you! Contact us now about booking your Stafford House English course!