Are you thinking of learning English in the UK in 2020? Brighton needs to be top of your list!
We found 8 great reasons why you should learn English in this fashionable city on the English South Coast!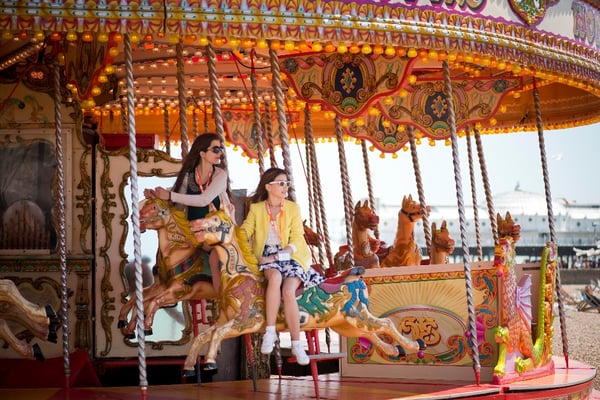 It's the UK's coolest city
Brighton is at the heart of cool British creativity! The city at first may seem like a classic British holiday destination, but look a little closer and you will see an exciting creative hub where people and businesses come together. Studying in Brighton puts you right in the centre of the action with plenty of creative industries and start-ups basing themselves in the city.
The friendly people
Brighton is cool and so are the locals. The city has a reputation as being one of the most accepting and diverse places in the country, whoever you want to be, you will find like-minded people in Brighton and always be able to make friends! Stafford House Brighton prides itself on its friendly atmosphere – as well as its educational excellence!
Creativity
We mentioned this above, but Brighton really is creative. You can feel it on the sea air as you walk along the front or explore the historic city streets – there is amazing street art wherever you look and you will always find inspiration around every corner. Stafford House Brighton's new English Professional Certificate course aims to give you some of this creative culture to help get you ahead in your career!
Beach Life!
It may seem a bit strange to talk about beaches in the UK – it does have a reputation as being cold and wet! Brighton's beach and seafront need to be seen to be believed. Miles of beach look out across the English Channel, with the incredible Brighton pier being at the heart of the action. Take a stroll and enjoy the waves and the sunshine – there are more sunny days than you expect!
Brighton is close to London!
Otherwise known as London-on-Sea, Brighton is where you can experience the best of the capital but on a smaller less hurried scale. Central London is less than an hour away by train so you can take a trip into the capital whenever you like!
The shopping!
Brighton is a city where everyone has their own style – and you'll want to get in on this too! Brighton has everything from big famous designer stores to the small independent shops selling vintage or exclusive designer clothing. If you're a sneaker enthusiast or a vintage style lover you'll find something for you!
The History!
We feel like we're cheating by mentioning history when writing about Britain – as it is all around you! Brighton has a very special type of history, and you'll need to visit the Brighton Pavilion to really understand it! One of the UK's strangest, yet most beautiful buildings, you will discover some truly beautiful examples of British style and culture inside – and maybe learn where Brighton got it's unique feel!
Opportunity
Brighton has a bit of everything you could want for a place to study. A relaxed accepting culture and a hardworking and progressive business scene. If you are ready to find what you want to do in business or in creative pursuits then there is nowhere better than Brighton to find your path!
Stafford House Brighton is found in the heart of the Brighton community. Our school Principal, Simon, and the team make a huge effort to welcome every student and ensure your time here is an incredible experience. Why not find out a bit more about the English Courses that Stafford House Brighton has to offer and explore this amazing city!