Toronto, the capital city of Ontario, is the largest city in Canada and one of the most vibrant cities in the country. As we begin to welcome students back to our English school in Toronto on Monday the 10th August, we're keen to show off everything this diverse city has to offer. From art and culture to shopping and food, here are some of our must-see recommendations to brighten up your Instagram feed. And they're all less than an hour away from Stafford House!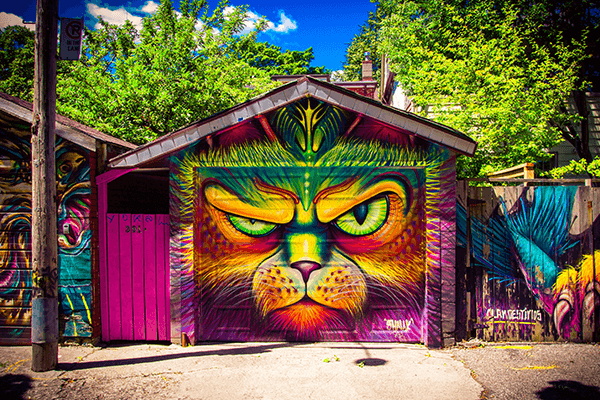 Graffiti Alley
A tunnel of vibrant street art that seems to stretch on forever, this is the perfect backdrop for a selfie. Graffiti Alley sits in between Queen Street West and Richmond Street West, and every inch is covered in eye-popping graffiti art. Take your time walking to make sure you don't miss anything, you'll definitely want to take more than one picture!
The Distillery District
Once home to a large whiskey distillery in the 19th Century, these historic buildings and quaint cobblestone streets now house plenty of indie restaurants, bars and shops. There are two unmissable Instagram opportunities here! First is the red heart sculpture at Parliament and Gristmill Lane, and second is the Love Locks Sign; a designated wire frame that spells out the word LOVE for sweethearts everywhere to leave behind a token of their affection.
Madison Avenue Pub
A popular student haunt! This unique venue is actually three interconnected Victorian mansions with a beautiful photo-worthy exterior, and inside there are six British-style pubs to choose from. Not only is this a great place to snap some pictures, but it's also a great spot to mingle with the locals, make some friends and practise your spoken English!
Philosophers Walk
If you like a bit of greenery, Philosophers Walk is a scenic footpath that runs through the University of Toronto St George Campus, and it's ideal for an afternoon walk. Soak up a little bit of Toronto's history and culture along this historic walkway, and be sure to get a picture at the miniature amphitheatre.
Toronto's Half House
This one you really have to see to believe! Located on St Patrick Street, this house was vertically split right down the middle due to a dispute in the 1970s where the owners refused to sell the property. A truly unique piece of Toronto that'll add some quirky charm to your Instagram feed!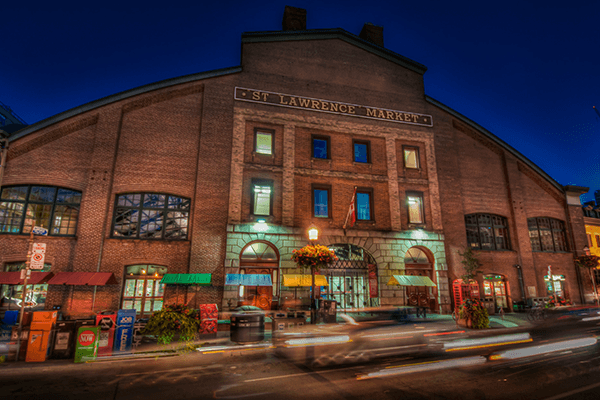 St Lawrence Market
St Lawrence Market is a prime tourist spot and is a must-visit if you've never seen the city before. St Lawrence Hall was built in 1850 and now houses a bustling market with a variety of food, floristry and gift vendors. The building features a chandelier and grand staircase perfect for posing on, and is sometimes used as a location for film and TV shoots.
This is just a handful of picturesque locations and fashionable hangouts this city has to offer. We encourage all our students to see the sights and absorb the culture while they learn English in Toronto, for the most enriching and authentic experience. It's one of the coolest cities in Canada, so make the most of it!